Wildflower Short Course, 2012
Tom Davis
Last Updated: May 13, 2012
Visit Tom's home page
Read other race reports by Tom
Click on any image for a larger version. (Thanks to Isa, my wife Ellyn and Alessandra's husband Evgenios for the photos!)
Racing at Wildflower
Although this is the fourth time I've raced at the Wildflower Triathlon, it's not my favorite race. The course is challenging and pretty, but it's just too damn crowded and chaotic. There are thousands and thousands of participants and spectators, and almost everybody camps there, so it's sometimes known as "the Woodstock of triathlon," and maybe I'm too old to be a Woodstocker.

Since there are so many racers and a narrow boat ramp at the start, we're divided into dozens of starting waves, taking off at 5-minute intervals, so some racers get going hours after the first people start and it can get very hot. It also bugs me that the race organizers are very Christian, and that may account for a bunch of things:

(1) Sunday's race starts an hour late so we can go to church. (2) Women's waves start after the men, so the last women to start often do so in blazing heat. (3) There are "I love Jesus" signs all along the course. (4) In the past, there were naked people at some of the aid stations, but apparently you can't be Christian and naked, so that's been banned.

If it weren't for my triathlon club's (Silicon Valley Triathlon Club: SVTC) organization, I doubt I'd do it, but volunteers from SVTC arrive as much as a week early carrying dozens of members' tents to set up a little SVTC village, all together, right next to the bicycle and run courses for both the long- and short-course races so we're surrounded by friends and camped in a great location. Also, this year a good friend (Alessandra, who seems to have an amazing natural ability at the sport) wanted to race it as her first olympic-distance triathlon (olympic distance: 1500 meter swim, 40 kilometer bike, 10 kilometer run). There's also a half-ironman-length race the day before plus a mountain-bike sprint. Anyway, with all the SVTC support and Alessandra it was worth it this year.

But: since it's a very popular race for SVTC members, every year we have a "Wildflower Training Weekend" three or four weeks before the actual event which is low-pressure and amazingly fun. During the evenings there's a huge club-sponsored barbeque, smores-making contests, drinking and general hilarity. During the day you can test-swim/ride/run any or all of the official courses (except with a hangover). I love the training weekend and missed it this year due to a stupid marathon in Boston. (Here's the race report.) Of course I doubted I'd do too well at Wildflower having run this marathon less than three weeks previous. But I have no intention of missing training weekends in the future: it's my favorite SVTC activity of the year.

My wife Ellyn arrived on Thursday to get in some bicycle riding before the situation got too chaotic. She also took some binoculars to see how many birds she could identify before the campground got so crowded that many of the birds would be frightened away. Here's the total bird list for the trip. (I often add bird lists to race reports and I wonder how often this lures unsuspecting birders to them. It seems like there are very few folks interested in both triathlon and birds.) There were other folks in the camping area who saw Wild Turkeys, but we missed them:

Eurasian Collared Dove Oak Titmouse Acorn Woodpecker Scrub Jay California Quail Yellow-billed Magpie House Finch Chestnut-backed Chickadee American Crow Dark-eyed Junco Turkey Vulture Western Bluebird Bushtit White-breasted Nuthatch Western Kingbird Red-winged Blackbird Red-tailed Hawk European Starling (at nest) Brewer's Blackbird Mourning Dove Mallard Greater Roadrunner (Tom only)

I rode down on Friday with Alessandra and her husband. One of the last places to get gasoline easily on the way to the campground is in King City on Highway 101. We stopped there to put gas in the tank, and since there was a Starbucks next door, we took the opportunity to put caffeine in our tanks.

Inside Starbucks we were approached by a guy who asked if we were racing at Wildflower. After we said "yes" he told us that the bike courses were really easy. I replied that they weren't that easy and that the long course was a half-ironman length. He said that was really easy and that he'd done something much harder. I said the course wasn't maybe that technically difficult, but it is tougher because you're usually in a hurry. He said he'd done a much harder ride in a hurry.

It became obvious that he really wanted me to ask him what ride he'd done that was so hard, but since I'm a jerk, I became determined not to ask. A couple more times he repeated how easy Wildflower is and how hard a ride he'd done, and I just kept replying with non-committal grunts. Finally, we got our coffee and left, and as we were getting into the car, saw the same guy starting to talk to another set of triathletes heading into Starbucks, no doubt hoping to explain to them what an amazing guy he is. Who knows? Maybe he's an ex-Tour de France winner who's put on a little weight but somehow I doubt it...

From King City we got to the race site without incident, although there was a very long line of cars waiting at the gate to enter the park. Many of the volunteers who support the race are students at Cal Poly in San Luis Obispo who stay in special campgrounds and have their own streamlined entrance. As we slowly advanced we could watch the line for the Cal Poly entrance and Alessandra saw somebody chugging from a vodka bottle. A bit later it became obvious why: although the entrance is streamlined, the student cars are thoroughly searched for alcohol (the Christian thing again? How do they know the booze they're carrying isn't Christ's blood, converted to wine?) and there was a big pile of alcohol at the entrance confiscated from the students who weren't so good at hiding it.

I was also told that many of the students come in for their version of a "training weekend" a week early to bury and hide bottles of liquor in various places in the park, and the race organizers then spend the next few days trying to find freshly-dug dirt. It's useless, though: on race day somebody has to go though the volunteer camps with blaring horns early on the race mornings to try to waken the volunteers from their stupors.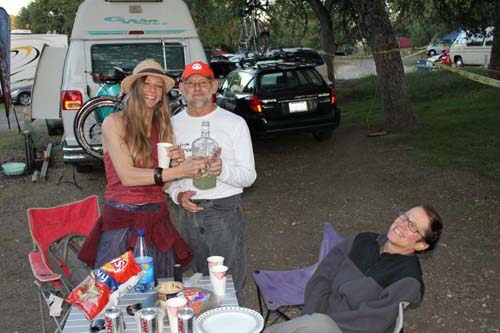 We joined Ellyn at the SVTC site, picked up our registration materials, scoped out the transition area, and then had dinner with some (and maybe a little too much) wine. Oh, and looking at the photo on the left, I guess some mojitos, too... (Ellyn is trying to lean out of an embarrassing photo, but she didn't know it was a wide-angle lens.)


The event program that we got at registration included a list of all the people who happened to be racing on their birthday, and I was one of those people. So of course I made sure my name was spelled correctly, and noticed that sharing my birthday was a woman in SVTC. I only vaguely knew her since she was relatively new to the club and we'd only introduced ourselves briefly at one of the track workouts a couple of months previously. So she was pretty surprised when I walked up to her out of the blue and wished her a happy birthday!
Spectator on the Saturday Long-Course Race
I wanted to save my legs for the Sunday race, so I joined another SVTCer, Carla, who was also racing Sunday, in a sort of contest where we each tried to be lazier than the other. We were sitting about 100 yards from the bike and run course so we decided to take chairs with umbrellas there and just sit on our butts and do nothing else. Well, 100 yards is a long way, and it took us more than an hour to get up the energy to move from our morning coffee all the way across the camp. Then we didn't move a muscle for a couple of hours and saw the last of the women arrive from the swim/bike transition and the pros and a few of the faster amateurs returning from their 56-mile race.

Unfortunately, due to my laziness on Friday, I couldn't be totally lazy on Saturday. Alessandra and I decided it would be good to test-ride the bikes for 10 or 15 minutes to make sure everything worked after their long vibrating trip in a bike rack from the bay area. It was hot and windy. We just rode for a couple of miles out on the course and back, and that route turned out to be parallel to the trail where the long-course runners were suffering, perhaps about 7 miles into their 13.1 mile race. A large percentage of them were already walking due to the heat. I was sure thankful that I was not racing and would be finished with my race long before that time of day on Sunday. I had had enough of high heat in Boston, but at least this time, even if it were quite warm, the humidity would be very low so sweating would actually do me some good.

But even the tiny ride we did was pretty unpleasant and discouraging!

SVTC did quite well with a number of members on the podium and three of them in first place. Larry, one of our first-place age-group finishers, attributed his win to the fact that "he wasn't passed in the walk." It was that hot.
Race Day
I had my usual breakfast: a bowl of cereal and a couple of shots of espresso. I was awake pretty early so I also had a bran muffin, knowing that it would have plenty of time to do its job and insure that I'd be racing with a slightly lighter load (and it did).

My wave started at 10 and Alessandra's at 10:10, so at 8:15 we hopped on our bikes to ride down to the starting/transition area (which is basically a long, downhill coast). I set up my transition area in the usual way, and I picked landmarks to use to find my way to and from my position. (Without my glasses, I'm nearly blind due to nearsightedness, and although the swim goggles do have some correction, they're certainly not as good as my normal glasses.) With thousands and thousands of almost identical-looking bikes in almost identical-looking racks it's easy to get confused, especially if there's no blood in your brain.

The racks are numbered from 000 to 999, but with thousands of people racing there are many spots with the same number and you had to look at the signs at the ends of the racks to find the thousands digit. My bib number was 6937 and when I got to my spot, there was a compeltely set up transition area with bike number 7937 in it. The young gal next to it had 7937 written on her arms so I told her she was in the wrong spot, but she insisted she was right since "I was told that all I had to do was match the last three numbers." I said, "Look at all the bikes around us. There's 6931, 6933, 6935, 7937, 6939, 6941, 6943, et cetera." (The odds were on one side; the evens on the other.)

She replied, "I was told that all I had to do was match the last three numbers." I tried a couple of other arguments, but she kept sticking to her one line, insisting she was right because the last three numbers matched. Finally I said, "Look, we're racked with people in our sex/age group. Look who's around you: we're all geezer-aged old men. Do you really think you belong here?" That did the job. She immediately said she was sorry, grabbed her stuff and made a quick exit. I don't know what I would have done had she not happened to be near her stuff. I did notice a few other bikes parked in spots that didn't correspond to their numbers. I guess if it had been hopeless, I would have been pretty sure that rack number 7937 was clear.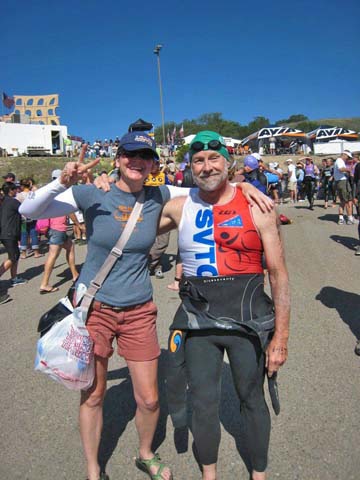 Here I am on the starting ramp with my friend Kathy. She's still deliriously happy about her first half-ironman finish the day before where she did quite well.

I ate a gel about 15 minutes before the start and had a cup of water just before I walked onto the starting ramp. There were so many SVTCers and other friends to talk to in the transition area that the time passed quickly and before I knew it, I was on the ramp ready to begin the swim. As usual, I got in the front of the pack and was clear of most of the other swimmers within the first 40 or 50 meters. The swim felt very strong (and turned out to be, but I never know since I'm basically blind and don't carry any sort of timing device in the water).
I was (a tiny bit) worried by the previous club swim workout on Wednesday before the race. The coach asked us a few times to swim 100 yards "all out," which I hadn't done for ages. My "all out" amazed me: it was faster, by 5 seconds, than any 100 I'd done in many years. But it completely blew me out, and I didn't have a single good lap for the rest of the workout. I must have gone so anaerobic in that 100 yards that my body totally rebelled.
I did notice that I was pretty tired when I got to the bike and instead of running it to the "bike out" and mount line it was more like a jog. Also, possibly due to my exhaustion, I had a hard time getting out of my wet suit and actually managed to tear a small hole in one of the arms. The suit is more than 4 years old, so maybe that's a sign that it's time for a new one. There's a long, steep hill immediately out of transition, so I settled into that, but was still doing pretty well, passing a fair number of people.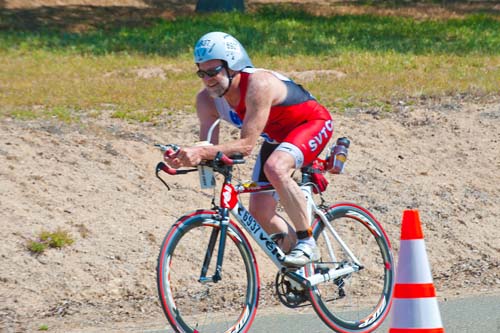 Here I am on the left, having just climbed the long, relatively steep (Lynch) hill out of T1.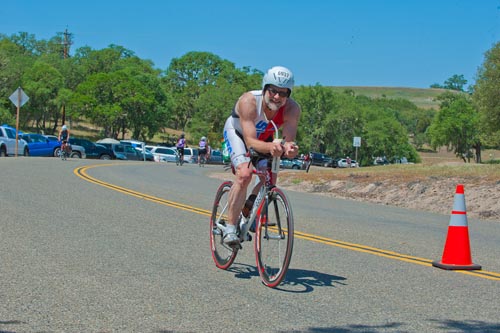 And here I am, almost finished with the bike leg and ready to descend to the transition area for T2.

Passing people doesn't mean much. I'm in the wave with the oldest men and all the younger men (thousands of them) start ahead of me. Since the Wildflower short course is the first triathlon many people attempt, and since there are thousands of entrants, there are lots and lots of younger men I can easily outbike and outrun. Since the youngest ones start first it is fun to watch smaller and smaller numbers that appear on the calves of the people I pass. (So that you know against whom you're competing, your age is written with a felt-tip pen on the back of your calf.)
But it wasn't too long into the bike leg that the faster people in my starting wave began to pass me, including a few people in my age group. I figured I was probably second out of the water because I knew one guy racing would beat me: he's the swimming coach for the local YMCA triathlon team. I might even have been third or fourth, since there were a bunch of guys against whom I'd never raced, and you never know.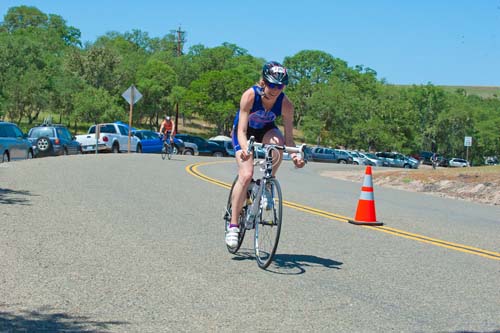 Here's Alessandra, near the end of her bike leg.


I set my "perceived effort" at what I thought I could maintain for the whole ride and still have something left for the run. I wasn't sure, of course, how much slower I'd be going due to the recent race in Boston, but I just set the pain level to about what it normally is in an olympic-distance triathlon. It's quite a hilly course, and just an out-and-back, so on the way out, it was hard to forget that each screaming descent would be converted to a nasty climb on the return. Of course knowing that the nasty climbs on the way out would generate a screaming descent on the return doesn't seem to compensate.
On the bike course I made sure to drink a lot, and I ate the two gels that were taped to my bicycle frame. I even picked up a bottle of water on the course and drank most of that.
I got to the turn-around still ahead of Alessandra, although a couple of women had already passed me. (The first group of competitive women began with her ten minutes behind me.) On the way back, I looked for her coming in the other direction, but got distracted a few times and after a bit it was clear that I'd missed her.
When I turned off the main highway and started back toward the park I was rewarded by seeing the first Greater Roadrunner I'd seen in many, many years. He (she?) ran across the road, true to form, and then took off just before getting to the other side. I had no idea there were any Roadrunners near Lake San Antonio.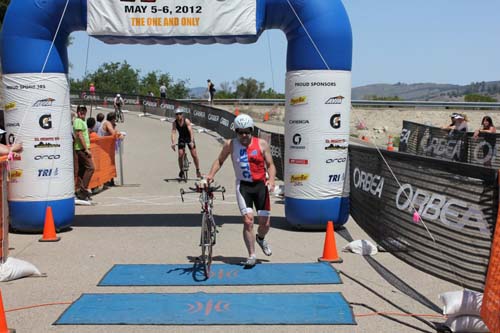 When I got to the bike finish, I was surprised how tired I was and actually walked the bike back to the rack and after I'd changed to my running gear, I had a hard time getting started, although after about one kilometer, I was jogging along at what I thought was a decent pace. Alessandra finally caught me at about 2 kilometers and just flew past. I knew she'd do a great job, since (other than women who might have passed me in transition) I knew there were only a handful of them ahead of her, and her run is her best event.


Somewhere between kilometers 2 and 3, I got a real fright: painful cramps in my hamstrings. I had nightmares of having to walk most of the rest of the race with massive cramps as happened the previous year at Ironman Canada. But I walked for about 20 steps, massaging my muscles and then began gingerly to run. Miraculously, there were no more cramping problems for the rest of the race, and in fact I was actually able to pick up the pace a bit.
It was hot, and with the cramping and dehydration, I took on two cups of liquid as I walked through every run aid station: one of water and one of Gatorade. I also took advantage of the volunteers on the course who would spray us with water from hoses if we wanted.
Starting at about kilometer 4, there's a long, moderately steep hill that climbs for about a mile. I was determined not to walk, and it wasn't as hard as I thought. I did pass dozens and dozens of walkers on that hill which felt pretty good. The top of the climb occurs at about kilometer 6, and since I knew that the rest was flat with a long steep downhill for the final two kilometers, I picked up the pace a little more and had a pretty solid-feeling finish.

At the end, I had a very good swim, a terrible bike (compared to my times in previous years: about 8 minutes slower than last time) and a fair run. It's funny that the bike was so bad, because it felt about comparable to how a good one feels to me. For fun, here are my times at Wildflower the other two times I raced the olympic distance:
| | | | | | | |
| --- | --- | --- | --- | --- | --- | --- |
| Year | Swim | T1 | Bike | T2 | Run | Overall |
| 2008 | 0:23:23 | 0:03:45 | 1:22:59 | 0:03:40 | 0:49:42 | 2:43:32 |
| 2010 | 0:24:42 | 0:04:02 | 1:23:13 | 0:02:11 | 0:53:55 | 2:48:03 |
| 2012 | 0:24:01 | 0:03:41 | 1:30:59 | 0:02:59 | 0:57:04 | 2:58:44 |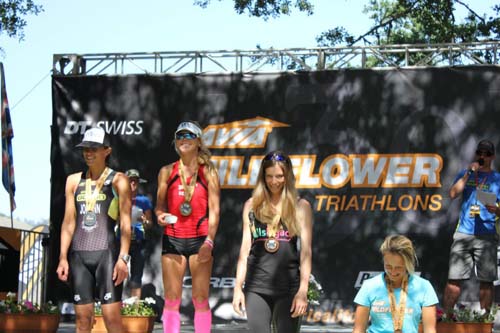 Alessandra did great! She got third place in a very competitive field. The best story she told me afterwards was that apparently from kilometers 4 through 7 on the run she was playing cat and mouse with the woman eventually came in fourth. Finally Alessandra turned to her and said, "You're really making this stressful," and then she turned on the jets and left her competitor in the dust.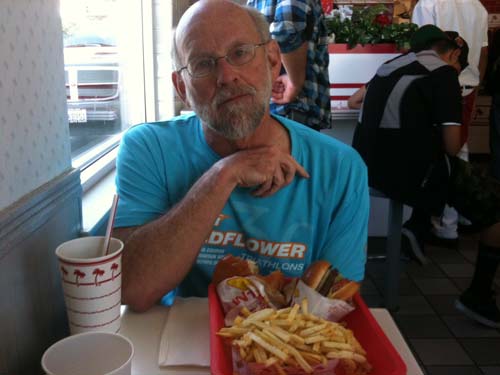 Here I am, dining on an ultra-healthy dinner in Salinas on our way home from the race.


Return to my home page.
Want to send me email? Click: ( tomrdavis@earthlink.net)