Race Report: Wildflower Long-Course Triathlon: 2009
Tom Davis
Visit Tom's home page
View other race reports
Preparation
(Skip ahead to Race Stuff if you're not interested in these pre-race details.)

This year I wanted to try the "long course": a half-ironman distance (swim: 1.2 miles, bike: 56 miles, run 13.1 miles: a full ironman is double all those distances) as I plan to do a full ironman (Ironman Canada) at the end of August. Although obviously that will be a much bigger deal, Wildflower was to be a sort of trial run for some strategies to use in the real thing.

Last year I did do an "Aqua-Bike" (just the swim and bike part) of a full ironman, so I've now got a couple of data points to work from.

In addition, my wife Ellyn and a couple of friends (Connie and Chris) planned to do the same race but as a relay: Ellyn doing the swim, Connie the bike and Chris the run. This was great since Ellyn was planning to be at Wildflower anyway (to scrape up the body at the end) and it would give her something to do, as well as a reason to take her swimming exercise a little more seriously. (When a big race is staring you in the face, it's surprising how much more motivated you are not to miss a workout.)

A group of us who ride regularly a couple of years ago jokingly started calling our group "Safety Third", and recently we've been entering races using that as a team name, so that's how Ellyn, Connie and Chris were entered at Wildflower.

My training went pretty well: I felt strong on the bike and I wasn't worried at all about the swim. In January I had hurt my knee a little bit and wasn't able to run for a couple of months. I very slowly started ramping up the running in March, and as of race day (May 2), the longest run I had done was about 12 miles, but without any knee problems. I had not done much hill running, however, and Wildflower is a pretty hilly course.

A month before the race itself, the three of us had driven down to the race course (it's about three hours from home) where Ellyn had done the swim, I and Connie had done the bike and Chris had done the run courses to check them out. Ellyn had never done any open-water racing, and she'd rented a wet-suit and wanted to give that a try in the official location. In retrospect, it would have been a good idea for me to do the run course but we wanted to do the whole thing in one day: drive down, test the course, drive home, and it would have added another two and a half hours or so for me to do the run. Besides, I run hills regularly at home so I wasn't as worried about it as I should have been.

It was very valuable to have test-ridden the bike course, however. You know just when the tops of the hills come, how many there are, how steep they are, and how fast you can safely take the descents. We synchronized our trip down with our triathlon club (the Silicon Valley Triathlon Club: SVTC) and Connie and I rode the bike course with the group. I'm a fairly strong cyclist, so volunteered to ride "sweep", to make sure that everybody got around the course without problems. There was a ride leader (Warren) who had raced the course a bunch of times. Since I was sweep, I didn't ride too hard, or rather, what I did was to ride short sections or climbs hard, and then waited for the last people in the group.

Everything was pretty much exactly on track: we'd gotten hotel reservations in Paso Robles for the night before (many people camp at the race site, but that's a totally chaotic scene, and we preferred to have at least some chance of sleep the night before), had restaurant reservations, and were pretty much set to go. Then, about four days before the race, Connie's grandfather died, and his memorial service was set to be on race day so Connie would not be able to race.

At that point we started a desperate search for somebody to replace her. We wanted a woman over 40 (since the other two were and they wanted to race in the "master's" category) but it's not easy to find somebody who can take off on short notice (we had to leave on Friday at about noon) and who is willing and ready to race a pretty challenging 56-mile bicycle course on the spur of the moment.

We sent out feelers all over the place but things looked pretty grim until finally Connie managed to contact our friend Siamak who agreed to race with them. Connie arranged with the Wildflower folks to change the team from a "Masters Relay Women" to a "Masters Relay Mixed", and they were ready to go. Then, with only a day left, it turned out that Siamak had not understood that we needed to leave on Friday at noon. He suggested that he could leave later, perhaps at "2:00 or 3:00 o'clock" and would meet us in Paso Robles for dinner.

It probably sounded reasonable to him, since he'd never been to Wildflower, but it seemed to us like it might be a big problem, since the situation there is pretty chaotic, and the rules state that each team member has to show up in person the day before to pick up the race packet (which includes things like the race numbers, the timing chips, and a whole bag full of other crap that usually goes right into the waste-basket unless it's edible). The park where the race is held is so crowded (about 8000 people race -- there are three separate races that weekend: long-course, short-course, and a mountain-bike triathlon -- and many bring their spouses, kids, dogs, et cetera) and the park is filled to about four times normal. Roads are closed, the parking lots are filled with race expo tents and bicycle racks and you can't drive to the start: you park perhaps a mile away and then hike on somewhat obscure trails to find registration.

If Siamak left at 3:00 (and he's been known to run a "little" late), that would be perfect timing for rush-hour traffic in San Jose and Gilroy on the way down, making him arrive at the park at 7:00 at the very best. Registration closes at 8:00 and there's no day-of registration. It turned out to take us an hour and 15 minutes to register when we did arrive at about 3:30, and we knew exactly where everything was. With Siamak arriving in the dark, in total chaos, and without a clue about where to go, we were pretty freaked out that he'd miss registration, and that would be it for team Safety Third.

The funny thing was that just as we were trying to figure out what to do, I got a call from Tammy (another morning Safety Third rider) who volunteered to do the bike leg, but she said due to meetings, she couldn't leave until about four. I had to turn her down since Siamak had already agreed to go, and she'd face even worse problems than he would. If she had said she could leave at noon, I'm sure I would have told her to come.

We asked Siamak if he really couldn't leave until later that day, but unfortunately, he's new at his job at a new company with a new boss, so it's a little harder for him just to blow off a random Friday afternoon than for someone who's worked at a company for a while. He said he'd try, but we just decided that was going to be too stressful, and we went ahead an cancelled the hotel registration, and just Ellyn and I would go down to race.

The hotel cancellation, of course, was past the 24-hour on-cancellation deadline, but both Ellyn and Chris gave it a shot since we really did have an honest "death in the family" excuse. Finally, after three calls and an eternity on hold, they got the room cancelled and a refund.

Then Tammy called Ellyn and said she'd managed to get her meetings cancelled and could leave at noon with us. Ellyn had just cancelled the hotel and had mentally given up on racing so she thanked Tammy but told her we'd basically cancelled. Then Chris called and said she'd gotten new hotel reservations at the same hotel, and had written to the race director to get the Safety Third team back to "Masters Relay Women". Ellyn got back into a race mentality, and we were finally set to go.

Everything went smoothly for the ride down and registration, and we had a nice early dinner in Paso Robles and sacked out by about 9:00 o'clock.

The race starts at 8:00 am, but it starts in a series of "waves", leaving every five minutes. First are the professional men, then the pro women, then collegiate racers, then under-20 men, et cetera. My wave was to leave at 9:05 (I was in the "50 and up men" wave) and all the relays, including Safety Third were to leave at 9:30.

But you have to get everything set up, preferably before 8:00 and you can't park near the transition zone; you need to get all your stuff to the start that's about a mile away. Your "stuff" includes bike, wet-suit, any food or special liquids, running stuff, towels, warm clothes in case it's cold at the start, snacks, and who knows what else. It turns out to be quite a load. The women brought a couple of folding chairs, too, which was a very good idea since during the relay, each of them would spend a lot of time waiting for the others to do their legs.

We figured if we started packing the van with our junk at 5:15, we'd be off by 5:30, and would get to the park gate at 6:10 or 6:15. Then, figuring that there would be a traffic jam to park and a mile or two of walking, we'd be in transition at 7:00 or so with plenty of time to set up in a relaxed way.
Race Stuff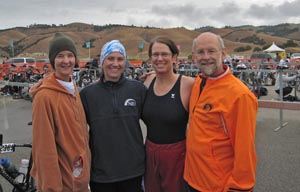 Here's the team photo. From the left, Tammy, Chris, Ellyn and Tom. Click on the thumbnail to obtain a larger image.

It turns out that Tammy and I have equally-bad senses of direction and I was driving from the hotel to the race. I did notice, after a while, that it was impossible that we were on the right route, since we hadn't seen some landmarks I was sure we should have passed. Just as we turned around, another car loaded with bikes was going the other way and they told us where we'd missed the turn. We followed them back and wound up getting to the park about a half-hour later than we'd planned, so we were thankful that we'd been a bit conservative in our time-scheduling. Our main stuff was set up by 8:00, and we had more than an hour to "tweak" things.

They wouldn't let us walk our bikes to the start (we had been required to walk them the previous year) but we got to ride to the start on the main road. What's a bit exciting is that it's the steepest descent of the whole race, and we were not wearing our bike shoes, we were carrying big backpacks, and in addition, I had my wet suit in a mesh bag with a string-pull that was sort of dangling over my shoulder. We made it down without incident, but I sure gave the brakes a good pre-race test! Ellyn and Chris took a shuttle-bus down and got there ten minutes after we did.

I was trying some new things in this race (well, I'd tried them on training rides, of course, but this was the first race where I tried them). They were handing out water and Gatorade on both the bike and run courses, and I've had hydration problems before, so I didn't want to repeat them. I had an aero water bottle mounted right in front of me with a straw sticking into my face and the bottle has an open top with a sort of loose sponge in it to keep the water from splashing out too much. But on the course, you could grab water bottles, squirt the entire contents into the mounted bottle, and then jettison the bottle, all within 50 yards or so. My plan was to keep that bottle as full of water as possible, but try to empty it before each aid station (of which there were five or six). Then, on my down-tube, I had another water bottle filled with Cytomax at about four times normal concentration. I'd take a sip of that, then a big pull from the front-mounted water bottle to make what hit my stomach approximately normal-concentration Cytomax. This worked pretty well. I've got two extra water-bottle cages mounted behind my saddle and I started with those empty, but if I didn't need all the water that I picked up at an aid station, I stuffed the remainder into one of those slots for later use. I'm not totally coordinated and lose some time when I grope around for the bottles behind my butt, so ninety percent of the time I got my fluid from in front of me or from the easily-accessible down-tube bottle.

The sponge in the aero bottle keeps most of the water in, but on bumpy roads at high speeds I got pretty splashed. With just water it was no problem, but I'm really glad that I didn't have Gatorade in it or my bike and body and everything would have been slimed with sticky goo.

On hot days I've had cramping problems, so this time I decided to take salt tablets. There's a company called "SaltStick" that makes a device that's sort of like a Pez dispenser for capsules that are filled with salt and other electrolytes. It mounts right on the handlebars so you look at it often and you'll remember to use it. You twist a knob and it delivers one tablet at a time. Alan, a friend to talked me into signing up for the Ironman in August, said they worked great. The advantage, he said, was that the dispenser only allowed you to drop one tablet at a time. On these races you see all sorts of flotsam on the road: dropped water bottles, dropped clothing, dropped food, and very often, dropped little plastic bags with a half-dozen salt tablets. If you're serious about your time and you drop something, it's very often the right decision just to say "bye-bye" and figure out how to finish the race without it. You lose so much psychological momentum, especially on the bicycle, if you stop and go back to pick things up. My SaltStick holds six salt capsules, and I figured I'd need about four for the 56-mile bike leg (allowing me two drops).

If I'm racing, it's sometimes easy to forget to drink, or eat, or take salt tablets, so I like to mount stuff where I look at it regularly. The water bottle straw in my face works well, as well as the salt tablets on the handlebar. Another similar thing (suggested by my coach Lisa) was to tape a few gel-packets to the bicycle frame with duct-tape. Then you just grab a packet and rip it off and the ripping process opens it for you. You squeeze the mess into your mouth, wash it down with a couple of gulps of water and presto: you've got another 125 calories on-board! I taped four of these to the frame right below the headset.

All of the above worked well on the race. I pretty much emptied the front bottle by the time I got to each new aid station, I spaced out the gel-packets pretty evenly on the course, and similarly with the salt tablets. Although it was a warm day, I had no cramping problems. It was really great to have done a test-ride of the course a month earlier so I knew the perfect time to eat: on gentle uphills, when being out of aero-position wouldn't cost as much, and not climbing so hard that I'd throw up if I tried to eat.

For the record, I'd eaten a bowl of cereal in the morning, a hard-boiled egg and some coffee. Then at the race site, an hour before starting, I had a turkey and cheese sandwich which I washed down with a canned espresso drink to make sure my caffeine level was suitably high.

I certainly wasn't over-hydrated, though: I only had to pee once and during the run I sucked down an amazing amount of water. On a longer race I'd better figure out how to drink even more on the bike.
Race Mantras
One of the things my coach Lisa (and she's Chris' coach as well) suggests is to have a set of "race mantras" that you can use to focus during a race, especially when things aren't going well. Before each event, we go over a set of mantras suitable for that race. They're usually just a few words that you can repeat over and over.

Before this event, I was mostly concerned with the run, since I'd only recently gotten my distances up to close to the race distance and I was worried about how I'd feel, starting a half-marathon after a 1.2 mile swim and 56 mile bike "warm up". Since the swim is my strongest event and I've never had the tiniest worry about it, I've never considered using mantras there, but the swim mantra is probably the most important for many of Lisa's other triathlete clients.

When I'm riding, I'm usually thinking so much about technical details (how to take the turns, how to ride without getting a technical "drafting" penalty, when to shift, when to eat, picking the right "line" to dodge potholes and glass, trying not to get killed by cars, et cetera) that I'd sort of considered the riding mantra "optional." But it turned out I did use mantras a lot on race day. Luckily, we had worked out a few general-purpose mantras, and on this race, I found myself using the general mantras quite a bit. "Strong and steady," or "I adapt to all conditions," were a couple of very nice ones that I used over and over and over. On the hair-raising descent down the back side of Nasty Grade (described later) I invented one on the spot: "Relax and safe," because I really didn't want a ride home in an ambulance, since you can't really gain too much time on descents, and since the time-trial style triathlon bikes are much more squirrely, handling-wise, than road bikes. (My tri-bike is named "Rocky", after Rocky the squirrel in "Rocky and Bullwinkle".)

In fact, Tammy just used her road bike in the race, and was able to pass lots of people on descents. I think almost everybody on the tri-bikes knows that they're unstable and takes it easy on the descents. I know I go down way slower than when I'm on my trusty road bike. Tammy said, "I was even passing guys I never pass guys!"

On the run, where I need the mantras the most since there's not a lot of technical details to think about and there are a lot of bad things to think about, we had some specific ones. The general ones, like "Strong and steady" work anywhere, but since I tend to tense up a lot, the three special running ones we had included "I'm relaxed under pressure," "I draw strength from the energy around me," and "I apply my fitness evenly over the entire course of the race." I tried them all, but I still felt pretty hammered for a large part of the run.

Chris uses a modification of the "I draw strength..." one; namely: "I steal energy from the people around me." She doesn't think Lisa totally approves, but Chris likes it. In fact, Chris awarded herself "points" as she ran. Every time she passed somebody younger than she was, she'd subtract that person's age from hers and award herself that many points. If she got passed by an older person, I suppose she'd have had to subtract, but she didn't do any subtractions on this race day!

Of course, being able to get into a completely cynical state of mind when I want to, we thought up all sorts of funny, totally de-motivating mantras on the drive to the race. For example, on the bike: "One mile down; only 55 to go." Or running: "I forgot my salt tablets: I'm probably going to cramp." Or for swimming: "Where in the f**k am I?"
The Swim
I dallied a little more than I should and had to jog to the swim start. I got there just as the wave ahead of us left, and as soon as they're gone, the next wave is allowed to get into the water and warm up (cool down?) for three or four minutes. The one time during the race that I had to pee was the instant I got into the water for the warm up. There's nothing you can do but pee in your wet-suit. I think 90 percent of triathletes do this: you figure that a mile of swimming will probably clean it out pretty well.

I remember a discussion of this relative to the etiquette of borrowing somebody else's wet-suit. The conclusion was not to say anything; they already know you're going to pee it in when they loan it to you. Anyway, if you're healthy, pee should be sterile...

I don't know what I was thinking, but I did not get in the first rank of swimmers on the boat ramp and it took a couple of hundred yards of fairly aggressive swimming to get to the front. My best sport is swimming: I swam and played water-polo in college, so I can swim "aggressively" and I usually do quite well on the swim leg. Each of the different waves has a differently-colored swim cap so you know who your competition is, and since I started with the very last wave of men, it was sort of fun to start catching swimmers will different-colored caps. We had yellow caps, but pretty soon I started catching blue caps, so I'd gained five minutes on them. Then red caps, for ten minutes: not bad for a half-hour in the water!

I managed to be the first swimmer in my age group out of the water with the next guy about a minute behind. I probably could have gone a half-minute faster if I'd started in the first rank and not had to pass so many people at the beginning of the race.
The Bike
The transition to bike went pretty well and we had lucky placement in that our bikes were racked pretty near the bike entrance and exit to the transition area. That meant I only needed to run in my cycling cleats for 40 or 50 yards, total.

The water was colder than usual (about 64 degrees F), and my hands were a little numb when I got to my bike. I learned a trick on some YouTube video for getting out of the suit in a hurry that worked well. As you're running from the water to the bike, you get the suit unzipped and pulled off your arms and hanging from your waist. When you get to transition, you pull it down as far as possible, then pin the suit from one leg to the ground with the other leg and pull that other leg out. Then repeat the process on the other side.

My feet were pretty clean, so I put on socks for the bike leg. I knew I'd want socks for the run and as long as I wasn't worried about getting sand in and riding for 56 miles with it, I figured I'd spend the sock-putting-on-time at the beginning of the bike leg. I did not wear gloves so saved the time that would have been required to put them on.

I was a bit worried about the bike start since the first part of the course is a narrow, bumpy road (more like a path) with a lot of spectators. Luckily, by the time I got there, it wasn't very crowded, and I felt pretty safe.

After the narrow road, we turned onto a regular road, and started the very steep climb out of the park. The nice thing about starting behind all the men is that I had a lot of people to pass, and I started right away doing so on the climb. A lot of people just do triathlons to prove that they can do it, and that means we old geezers get the pleasure of passing the youngsters: the 50-year olds, the 40-year olds, and sometimes even 25-year olds. When you catch a 25-year old, it means you gained something like 25 minutes on him, since he started five waves ahead of you. By the end of the bike leg I was passing a few 25-year olds, and that felt great!

That initial climb is probably one of the most difficult on the course, but it's right at the beginning when you're pretty fresh, and once you're at the top, the course basically rolls for almost 35 miles. Then comes "Nasty Grade", starting at about mile 41, when you're a little beaten down. Since I'd pre-ridden the course, I was ready for it. It has a false summit which is probably pretty demoralizing for first-timers. After the true summit, the road drops a couple of hundred feet and then climbs again to "Cardiac Hill": the highest point on the course. There's a very steep descent which I took very conservatively and I wasn't surprised to see that there was an ambulance half-way down for somebody who didn't. The very top is at mile 45.

Then there's another long, gentle climb, then you go back into the park, ride more rollers, and finally a screaming descent to the transition.

I felt very good on the bike, and basically rode my own race. I was passing people all the time, and got passed a little bit. There were no "cat-and-mouse" situations. If I passed somebody, they never caught me, and vice-versa. I think everybody is doing the same thing: being careful so save something for the run.

I talked to Tammy after the race and she said she was extremely glad that when we'd driven in the day before to register, we'd gone in over Nasty Grade, so although she hadn't ridden it, she had at least seen it, including the false summit. She's a very good climber, and talked about some gal who tried to play cat-and-mouse with her. As they climbed toward the top, her competitor was keeping up but starting to breathe very hard. Then they took the turn at the false summit, and her competitor was so demoralized that she was spit instantly off the back and Tammy never saw her again.

In spite of the fact that I thought I'd done well, my time was not so good, relative to the other guys in my age group. I didn't know that, of course, and I had no real idea what my position was. Although I was first out of the water, I didn't know that at the time, and two guys in my group passed me on the bike, but some people didn't have their ages written on their calves, so you never know who might have passed you. It's also the case that some people put misleading numbers on their calves so you don't know if you're in their age-group.

Although cycling is my favorite sport, my times are not so great, and I'd done a lot of work on the bike getting ready for this race but it's clear that there's still a lot of room for improvement.

Tammy and I are certain that the mileage on the bike course is mis-marked. We both measured 55 miles instead of 56, using two different methods. I used GPS and she used a bike computer that basically counts wheel rotations. Also, there's something obviously wrong with the mile markers coming into the finish. The long course has yellow indicators painted on the road every mile, and the short course (40 kilometers) has similar markings every kilometer. If things were marked correctly, there should be a green "40" and a yellow "56" at the end. But coming in, the "52-mile" mark and the "35-kilometer" marks are at essentially the same place, which should mean that 4 miles is equal to 5 kilometers, and that's not the case: 5 kilometers is close to 3 miles.
The Run
I had a very fast transition to the run and started out at what I thought was a very conservative pace, since it was starting to get warm.

But after about three miles, I realized that I was not going to do as well as I'd hoped: there were a lot of steep pitches, as well as some long, grinding climbs. I started walking sections of the climbs, trying to walk for at most 20 paces and then start jogging again. Lots of other people were doing the same thing, so I didn't feel terrible about it, and for the longest climb, I walked a good portion of it.

I drank at least two cups of water at each aid station, and the aid stations came almost every mile. I had one or two cups of Gatorade over the whole course since I felt much more dehydrated than short of fuel. I think my eating strategy on the bike put enough calories on-board to make it through the run.

I was wearing a GPS unit on my wrist to track heart-rate, elevation and distance, but somewhere around eight miles in I must have bumped it and turned it off. I think there's a way to "lock" it that I'll look up for the next race. I was really sorry not to have the data, since the mileage markers on the run course were messed up. I came to marked mile 9 when I thought we should have been at about 8, but they did go up in a reasonable way to 10, 11, 12, and at mile 12, you just think, "Thank God! Only a tiny bit more than a mile to go, and it's mostly downhill."

Well, I'm convinced that the mile-12 marker was at about mile 11. I figured that at very worst I was running 10:30 miles and since from 12 on it was flat, and followed by a screaming downhill (the same finish as the bike) I'd be done in 10 minutes, and probably much closer to 8. It took me 15 minutes to finish, and I have GPS data for the last part of the course (but with no indication of where the mile-12 marker was) and I was running most of the final downhill at about a 6:45 pace. That's how I get the 2-mile estimate. At least it's downhill; it would have been incredibly demoralizing to have an extra mile of uphill at the very end.

The course is brutal. It's hot, almost never level, and starting at "mile 10" (probably really mile 9) you run down a long road into the camping area. At the bottom, you turn around and run back up. You can see the agony on the faces of the runners coming up as you go down, and at each turn, you hope to see the turn-around point, but it seems to go down forever. Actually, it's about a mile down, then a mile back up. I was apparently feeling a little better by then since I did manage to run all the way up, but I think I probably didn't have a very cheery expression...

The run must have been horrible for everyone, since in spite of the fact that I felt like it had been a total catastrophe for me (and it was, time-wise: I was aiming for 2 hours and it took me 2:13), my run split was the third fastest in my age group. So fastest swim and third fastest run for a total of fifth place overall (out of 25 in my age group) shows just how much my bike leg sucked. In a sense, it's not surprising. The swim part is relatively short so the most you can hope for is to gain a couple of minutes there. The bike leg is the longest (3:08 for me), so that's where it's easiest to lose time.
The Women's Race
My wife Ellyn was really pessimistic about how she'd do in the swim. I knew she'd do well, since she had been a competitive swimmer in high school and swam regularly. She had a rented wet suit (that I'm sure nobody had ever peed in) and had given it a test run at the lake where the race was held. She was amazed at how cold the water was, and it had really knocked the wind out of her when she got in. As a result, she did a couple of other open-water swims (one a workshop and the other a race) to get ready. She found that if she wore a "squid lid" (a neoprene hood) the water was much more tolerable.

Tammy is a strong rider and we were sure she'd put in a solid performance, even though she hadn't trained for this particular event. She's done triathlons in the past, so wasn't worried about anything. Chris is an amazing runner (well, an amazing athlete) and she's done ironman triathlons, ultra-biking (Paris-Brest-Paris), and has run 100-mile foot races. She is currently qualified for, and getting ready to run, the granddaddy of all 100-milers: the Western States 100. We "suspected" that she wouldn't have much trouble running 13.1.

I was out on the course for the whole time, so couldn't know what was happening. I was just getting in from the swim, for example, when Ellyn was leaving, so Tammy and Chris had gone to the swim start to watch her take off. Thus I didn't talk to them during my swim-bike transition. At the bike-run, Ellyn was back, so I knew she'd finished. She had been, of course, a little worried about the chaos at swim starts, but she'd started in a conservative position, and had actually passed a bunch of folks. She had no idea what the times were. Tammy was out on her bike, so I got to talk to Chris and Ellyn for about one minute while I changed shoes.

Team Safety Third did quite well: second in the women's master's division. Ellyn had the second-fastest swim, which was much better than she thought she'd do. Masters starts at age 40, and Safety Third's average age is over 50, so in fact it's a really good result!
Post Race
Chris finished about an hour after I did and we slowly packed everything up to leave. There were shuttle busses to take you back up the hill from the lake to the parking area. Ellyn and Chris, who were carrying a load of stuff, took the shuttle, and Tammy and I decided to walk our bikes instead of waiting for a slot on the bike shuttle. It turns out we probably could have gotten up faster with the shuttle, and the non-bike shuttle was incredibly slow, so Ellyn and Chris waited in line for about 20 minutes before they got a ride up.

But being navigationally challenged, Tammy and I got lost trying to find the car at the top, and we got there even after Ellyn and Chris.

We wolfed down a bag of salty, greasy potato chips that really hit the spot, and not long after, on the road home, we got the idea to have greasy, salty hamburgers at the "In and Out Burgers" joint in Salinas. That also hit the spot! We got home at 9:30 at night or so, having been up since about 4:45. Luckily, Ellyn wasn't too hammered and did all the driving. I'm pretty sure I would not have been the safest driver.
Results
Here are my splits:

Swim: 31:51
T1: 4:22
Bike: 3:08:18
T2: 2:31
Run: 2:13:40
Overall: 6:00:43

Safety Third:

Swim (Ellyn): 40:01
T1: 2:57
Bike (Tammy): 3:43:56
T2: 1:22
Run (Chris): 2:06:58
Overall: 6:35:15

Obviously, the Safety Third T1 and T2 transition times will be a lot better than mine since the next person in the relay is ready to go. I had to strip off a wetsuit, or change from cycling to running shoes, et cetera. The Safety Third T1 time is relatively long since Ellyn had to run the whole length of the boat ramp (perhaps 50 yards) and through the entire transition area and all of that counted as transition time.

I think there may have been a 5-minute error, at least for my age group, and possibly elsewhere. As I hit the finish line, the master clock said "7:00:43". I subtracted the "1:05" delay of my start and got 5:55:43. After my race, hanging around with the other guys in my group (all our bikes were racked next to each other) two of them said that their times were 5 minutes more than they'd thought, and that perhaps they'd both gotten drafting penalties, but neither could imagine why. I didn't know my time, so didn't know that I had yet a third data point.
Note to the coach
Here's the race report I sent to my coach:

Hi Lisa,

I wrote up a horribly detailed race report that you can read here:

http://www.geometer.org/Races/Wildflower2009.html

but it's for the "general public" with drama and excitement and stuff. Here's my report for the coach:

The swim was great: I was first out of the water. If I'd been a little more aggressive and gotten into the front rank at the beginning, I could have gone even faster since I wouldn't have had to spend the first couple hundred yards getting to the front.

The bike felt very good, and I almost felt like I was in a Zen-state for a lot of it. Everything worked like clockwork, I was pushing solidly, but thought I was saving enough for the run. I averaged just under 18 mph which wasn't bad for that hilly course. 3:08 was the total time, but we had picked 3:00 as a our target.

The run felt dreadful. I think I should have put in more training time on hills since the ones there were really discouraging. I started at what I thought was a very conservative pace, and couldn't even hold that. I started walking parts of hills and walked a lot of the big hill in the first part of the run. Many other athletes were doing the same, and quite often it seemed like I would actually speed up when I stopped trying to jog and started solid walking.

But the weird thing is that although my run time was terrible (I wanted a 2:00 and got a 2:13) the 2:13 was the third fastest in my age group. What was surprising is how much time I lost on the bike leg, which felt really good. The bike time sucked so bad that my final position was 5th out of 25. My transition times were good compared to the competition: within a few seconds of what the fastest guys were getting.

We were aiming for a 3:00 on the bike and, 2:00 on the run, 0:30 in the water, and 0:15 for transitions and slop for a 5:45. My final time was officially 6:00:44, but I think there was a systematic error in the offical timing since all the guys in my age group that I talked to thought they had been mis-timed by exactly 5 minutes. The time I registered was 5:55:43. Since the error, if there was one, was systematic, it didn't affect our relative positions, so in that sense it doesn't matter.

The fastest man beat me by almost an hour: by 24 minutes on the bike and 29 on the run. The second fastest runner was only four minutes faster than I was. If I'd been four minutes faster overall, I'd have been in third place.

So it's weird that I have such mis-matched impressions of my running and cycling efforts. Maybe I'm not hurting enough on the bike, which is why I feel so strong? I was certainly hurting enough on the run :^) But I wonder if I hurt so much in the run because I'd over-done it on the bike? The heart-rate data for cycling was much more aggressive than how I rode Tierra Bella for example. I wish I had power data, but my racing wheels don't have the PowerTap hub.

No cramps, even though it got a bit hot for the run! I got one of those SaltStick electrolyte dispensers mounted on the handlebars and took one about every 15 miles on the bike, plus one just before I took off on the run. Maybe that helped.

I came up with a scheme for hydration that worked well, too: I used the aero bottle in front of my face for pure water, and carried a bottle of highly concentrated Cytomax on the down-tube. I'd take a small swig of that followed by a big gulp of water so that the stuff getting to my stomach was like normal-concentration Cytomax. I emptied the aero bottle by the time I got to each aid station and refilled completely each time, so I drank roughly 5 large bottles of water during the 56 miles, plus a big gulp of water at both transitions.

I still think I was behind on hydration, since I had two (and a couple of times, three) cups of water at each of the running aid stations, and there was an aid station every mile. I think I sweat it out faster than most people. I didn't have to pee for the whole race, and even for quite a while afterwards, and believe me, I was hydrating afterwards!

Calories were fine. I felt almost no need for anything but water during the run, almost certainly because I got enough calories on-board while I was riding. I had a solid breakfast at 5, ate a turkey and cheese sandwich an hour before I started plus a Gu and one of those canned espresso drinks about 20 minutes before the swim. Then four Gu's and what amounted to about 2 big bottles of Cytomax during the bike.

As usual, no mantras were necessary for the swim, but I used them a lot more than I thought I would on the bike, although just the general-purpose ones. On the run I tried all of them, but felt pretty hammered and felt that none of them helped much. Maybe they did, of course, and I would have felt even worse, otherwise. For some reason, for the first half of the run or so, my feet seemed to get really hot during the climbs. What was also interesting is that I seem to have recovered a bit by the end of the run, since I ran up almost all the hills without walking after about mile 8.

Anyway, I'm not too unhappy with the results. I'm going with my 5:55 time rather than the official time, and that's only 10 minutes off our target. I clearly need to ramp up the running a bit in general, since I'm still way under what I was doing at this stage last year, but it's totally annoying that the cycling is still so far below par, compared to the other sports. Maybe I can do more with the power meter?

Anyway, let's talk when you get back. I hope you're finding your trip valuable, interesting, and fun!

-- Tom