Race Report: 2010 Santa Cruz Triathlon
Tom Davis
Last Updated: September 26, 2010
Visit Tom's home page
Read other race reports by Tom
Note: Thanks to Erica Baylor for the photos included here. You can click on any thumbnail for a larger version.
I won this race last year by a lot: about 5 minutes faster than second place. Last year I just pulled out all the stops on every leg, and so I decided to try the same strategy this year. My "residual fitness" from an ironman was a lot older this year: last year IM Canada was three weeks before the race, and this year IM Regensburg was about seven weeks before this race, although I ran a 50k about three weeks previous to it.
I fixed my bike up the same way: a full-disk rear wheel with a 11-23 and a deep-dish front wheel. There are no hills to speak of: just rollers, and I never came close to using the low gears that were available, so the gearing was a good choice. I noticed that there's a tiny wobble in the disk wheel that causes it to scratch the derailleur when it's in the 23, but I figured I'd never need that gear anyway.
I knew where I wanted to rack the bike and it's first-come first-served, so I wanted to get there early. The race starts at 8:00 and transition opens at 6:00 so I set the alarm for 4:30, woke up at 4:15, and just got up. I had my usual breakfast: cereal and a triple latte, hopped in the van (which was loaded the night before), and headed over the hill to Santa Cruz. Even with my early departure I was still number 20 or so in the line to enter transition, but I still got (in my opinion) the second-best spot there: right near the bike in/out. I still have not practiced starting with my shoes clipped in, and I don't like running in cleats, so right next to the bike in/out is perfect for me.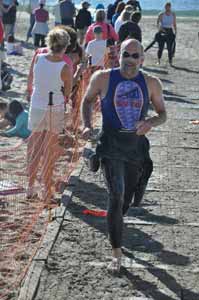 I've always had good luck eating a turkey and swiss cheese sandwich with a tiny amount of mayonnaise about two hours before the race start, so I ate that at about 6:05 -- as soon as I'd claimed my rack position.
It only took 10 minutes to get set up, so I had lots of time to socialize with my friends, and this race probably has more of them than any other except perhaps for Wildflower.
I have two Garmin GPS devices: the 305 (that I use for running) and the 705 (for cycling only). For a short race like this (olympic distance) I just turn them both on before the start so they've locked onto the satellites and I start the 705, but in a mode where it doesn't record anything until there's movement. That way I don't have to remember to push the start button in T1. The 305 is in my running hat, and in T2 after dumping the bike and getting on my shoes, I just grab the 305, my hat and my race number on a belt and put it on as I jog out of T2. Then I start it running.
All my other gear was normal: I put water only in the aero bottle that has a straw sticking in my face; I put Cytomax in a bottle on the down tube, and no fluids in the slots behind my seat. Since my full disk wheel has a tubular tire (I got it used for a very good price) I crammed a spare tubular tire in one of the bottle slots behind my seat.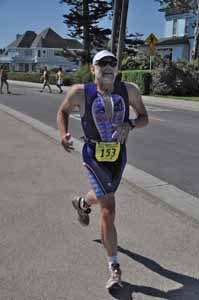 Although I brought a pump to the start I didn't plan to use it, nor did I. The day before I pumped the tubular up to 130 psi and the front tire to 120. My experience shows that by the next morning they're both down about 10 psi, which they were, and that's how I like to ride them.
I taped a couple of Gu packets on the top tube, although I wasn't sure I'd want to eat them in such a short race.
With all the time in the world before the race, I leisurely changed to my wet suit and walked down to the beach with a friend. It's unpleasant, since there's lots of gravel on the sidewalks and asphalt but I put up with that rather than having the problem of finding my flip-flops after the race. And there's never a problem with running back to T1: the water in Santa Cruz is icy, and my feet are always totally numb.
The race was late getting started since there was some fog and it was difficult to see the first buoy. I didn't think that mattered: the pier was totally visible and we knew that the buoy was near the end of the pier so it's hard to imagine people getting lost. I was also worried that the fog might get worse, since a hot day in the valley will pull in cold air over the ocean and that's a great way to generate fog. But a half hour later the officials deemed it safe to start and the first wave went off. They space the waves by 5 minutes which seems to me excessive, since there aren't that many athletes, but anyway, my wave got started at about 9:05.
I had a little trouble with fogging of my goggles and got a bit off course from time to time, but I probably only swan an extra 10 or 20 meters for the whole race. As I type this, I have no idea what my splits are: they're not posted yet, I don't have a waterproof watch, and I'm usually so distracted at transition that I screw up the button pushing anyway.
I discovered that sometime between this year and last I've picked up a bad swimming habit that I hadn't noticed since it had been a full year since I swam in salt water. I apparently have started to let water into my mouth on almost every stroke and then I spit it out. I only train in pools and the only open water swimming I do is in triathlons which all happened to be in clean lakes this year. I sure noticed the bad habit in the ocean, though! I know that I get water in my mouth when the waves are rough, but the ocean today was very calm. I figured this out during my warm up, and was able to correct it very quickly!
With the half-hour start delay, I figured it was a good idea to go in for a second warm up and I did that. That was a good idea: standing on the warm beach in a black wetsuit in the sun made me forget how cold the ocean was.
The swim felt solid, but maybe it was slow, since when I got on the bike, I was caught at mile 4 or 5 by a guy whom I beat last year by about 6 minutes in the water. Or maybe his swim is vastly improved. I seemed to remember that his bike and mine are about the same, and that his run is a bit faster. When he passed me on the bike, I couldn't keep up and was thinking, "S**t, it looks like first place is gone." I didn't (and still don't) know if I was first out of the water, although that's been a pretty good assumption in every race I've done.
Everything felt good on the bike, and I felt like I pushed it pretty hard. There was a headwind going out and a tailwind coming home, but it wasn't too strong. It was strong enough that on the downhill parts of the rollers I was actually using my 53-11. (All my other wheels have a 12 as their highest gear, and that's plenty. A 12 would have been fine here, too.)
The late start and standing on the hot beach I think got me a little behind on water, and I sucked down most of the water in the aero bottle (and a lot of the Cytomax) before the turn-around in Davenport. In previous years, there's been an aid station there where they hand out water bottles and I was counting on that, but this year there was only Gatorade in bottles and they were trying to pass out water in paper cups. That's hopeless at medium speed, so I didn't get any water and ran out about 3/4 of the way through the bike leg. Luckily, I had a bottle of pure water in transition that I had planned to use to get the sand off my feet but hadn't needed, and I drank most of it before I took off on the run, and never really felt any dehydration problems. I also ate the two Gu's on the bike: at about 1/3 and 2/3 through the race.
At about mile 20, I caught the guy who passed me at about mile 4 or 5, and I thought that maybe he'd pushed too hard and blown up. But apparently he had something left, and I only got to T2 a minute or so ahead of him. I was also a bit freaked out since I thought I'd remembered that he outran me the previous year.
I obviously pushed hard on the bike, since when I tried to start to run out of T2 I was very wobbly, and my back felt like it was ready to cramp. The first 200 yards were very slow, and I kept expecting my nemesis to pass me, but he didn't, and I eventually got so that running felt ok. I only did one brick workout between IM Regensburg and this race and maybe I should have done more.
The run is an out-and-back, and I was still ahead at the turn-around so I started counting steps to see what sort of a lead I had. Not much: 15 steps to him, meaning he was only 30 steps behind. At that point I got the fear of the lord in me, and kept trying to go faster. I tried running 100 steps fast, then 100 normal, and alternating that. I also had to fight the idea of just letting him pass and settle for second: it would be so easy. And of course I had no way to check his position. I'd glance back and never saw him, but I was sure he was a stronger runner so any time somebody passed me I was worried that it was he. (Lots of youngsters pass me on the run: I've got a very good swim and a pretty solid bike but a relatively crappy run, so I get ahead of a lot of 30 and 40 year olds. There were also relays running that started 5 minutes behind me, but many were peopled by very fast athletes.)
One strange thing happened on the run that had me puzzled for a few minutes. There's a gal in the club (Nina) who is a much faster runner than I, but we're about equal in the water and on the bike. About one mile into the run, there she was, coming back, and I couldn't believe that she'd managed to get four miles ahead (she was about a mile from the finish, since it's an out-and-back), and I knew that her age group started five minutes ahead of me. With an equal swim and bike, how could she gain four miles? Or maybe I didn't remember her age, or maybe I'd had a really terrible swim, or ... And I thought she was in Italy, besides!
At the end, I talked to her, and found that she wasn't in the race at all; she'd come down to cheer on the club members, but also to do a long training run to get ready for a marathon. Her timing on that training run happened to put her where she was. Other people commented on how confusing it was to see her running where she was. I of course didn't notice when we passed that she did not have on a race number, although she was wearing triathlon kit.
Heading back for the final 5k really hurt: I kept trying to tell myself that I'd felt much worse in an ironman, but I'm not sure that's true. I've certainly felt worse in the sense that I'm really tired and there's a long way to go, but not hurting from trying to run so fast. Normally, when I'm 50 meters or so from the finish line I can pick up the pace for the last little bit, but this time I tried and there just wasn't anything there. I may even have slowed down a bit in that final 50 meters! Anyway, at the end, I was totally shot, and had to stand there for a long time, head down, hands on knees, gasping for breath and feeling a bit dizzy when I tried to straighten up. But I beat my nemesis, and by a fair amount: I think by a couple of minutes.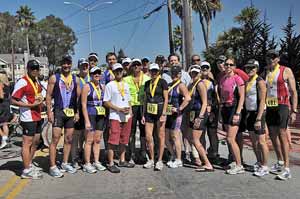 On the left is a photo of everyone in the club we could find at the finish.
I thought I'd probably won, but when I went to the printed results, I got a real surprise: I did win, but my nemesis was third. I'd nipped the second-place guy by 13 seconds! I'd never raced against him, so didn't know him, and I suspect he may not have had his age written on his calf, since I didn't see any people his age during the race. Or maybe he's a really fast swimmer. I talked to him at the awards presentation, and apparently I passed him in the final kilometer or so and he said that he couldn't hang on. I was so tired and at the same time riveted by the idea that my only opponent was the guy whom I beat handily that I may not have noticed a "60" on the calf of somebody I passed in the final kilometer.
OK, in the time it took to type this, the final results were posted, so all my questions above can be answered. I did quite a bit worse than last year. Here are my official splits for this year:
Swim (1500 meters): 25:41 T1: 3:54 Bike (40 kilometers): 1:11:25 T2: 1:39 Run (10 kilometers): 49:32 And here are my official splits from last year:
Swim (1500 meters): 24:33 T1: 4:27 Bike (40 kilometers): 1:07:49 T2: 1:41 Run (10 kilometers): 49:02
The second-place guy did have a faster swim, T1 and bike, and I actually ran him down. I beat my nemesis by 1:52. My transition times are crappy: fourth fastest in T1 and in T2, but I only lost, in both T1 and T2 combined, 1:14 to the fastest transitioner. I had the second-fastest swim, the third-fastest bike, and the second-fastest run. I was first out of 17 overall, with 14 of the 17 finishing.