Trip Report: Botswana 2012
(September 17-October 2)
Tom Davis
Last updated: October 10, 2012
Visit my Home Page.

You can click on most of the images below to obtain a higher-resolution version.
---
It's a Long Way to Botswana
This was our first trip to Africa and we planned to spend our time seeing as much wildlife as possible and to get good photos of lots of birds and animals. We stayed at four high-end camps, all in Botswana (here's a map and general information) and all run by the same organization: Wilderness Safaris: one in the Kalahari desert and the other three in the Okavango delta. To optimize viewing and photography, where possible we paid extra for a private vehicle and requested a guide who knew something about photography and who knew about birds. I think most of the guides at the Wilderness Safari camps are very well-prepared, for birds or anything, but we didn't know that and suspected that a lot of the tourists have very little interest in anything other than the big mammals and the spectacular birds. Private vehicles were available at all but the Kalahari camp.

One reason that we got almost exactly what we asked for is that we started planning about 9 months before we planned to go. If you wait until the last minute some camps are full (most are not too large) and there may not be a private vehicle available.

Four friends had made a similar trip to Botswana the year before and recommended it highly. In fact, we used almost exactly the same itinerary and the same travel agent (Geographic Expeditions). The only difference was that we passed up one of the camps they visited and went to see the Kalahari desert instead.

I took a huge load of photographic equipment and in retrospect, I used almost all of it and didn't really miss anything. Click here for a completely anal-compulsive description of the equipment I took and the strategies I used to obtain good photos. Here's a page with my 12 best photos and here is a page with the best plus all the "pretty good" photos. Finally, here's a complete bird list of all the birds we saw when we were in Botswana.

The worst part of the trip was the amount of time it took to get there and back. We flew from San Francisco to Frankfurt, followed by a 7-hour layover. We used frequent-flyer miles to rent a room in the Frankfurt Hilton which allowed us to shower and nap, but had the disadvantage that we had to go in and out through German customs and immigration and walk about a mile each way, carrying a huge load of camera gear. Then on to Johannesburg, South Africa, where we arrived in midday, were taken to a hotel in town, and since neither of us got much sleep on the flight, we just slept. The hotel where we were booked was way too fancy, considering that the only thing we did was crashed, woke up, and got a ride back to the airport. It would have been way more efficient (and probably quite a bit cheaper) just to stay in a hotel next to the Joberg airport.

The next morning we caught a flight to Maun, Botswana, and from there, we boarded a small bush plane that took us to a tiny airstrip near the first camp where we were going to stay: the Kalahari Plains camp.

We were met at the airport by the person who was going to be our guide for our entire time at Kalahari: Rogers. We also met the other two people who were going to share the Range Rover with us: Andy and Monica, a newly-married Swiss couple on their honeymoon. Although you never know with whom you'll be assigned to ride, it turned out that Andy and Monica were perfect companions! We got along really well, and they were fun, interesting people.

In fact most of the people we met were pretty nice, but there were a few with whom it would have been pretty trying to be in a Range Rover for many hours.

We chose the dates to maximize the number of animals we'd see. September and early October usually mark the end of the dry season in Botswana with the rains starting in mid- or late-October. With things as dry as possible, the watering holes are few and far between, and that means that when you get near water, the number of animals goes up. In the rainy season, the animals can be anywhere.

This turns out to be a very good theory for the camps in the Okavango delta, but at the end of the dry season the Kalahari is almost too hot and a visit there in the wet season would probably generate more animals. I'm still glad we went: we were making one trip to Africa, it might be our last, and we did want to see the Kalahari desert (probably partly due to having seen the movie "The Gods Must Be Crazy" years ago). But it was lucky that we went to the Kalahari first: it might have seemed to be a bit of a letdown, animal-wise, if we'd been to the other camps first. Since the Kalahari Plains camp was our first visit to the African bush, it seemed fabulous.
Kalahari Plains Camp
After we got off the plane, Rogers drove to park next to the middle of the runway to make sure that no animals were near enough to get on the runway as the plane took off. It would sure be a nasty surprise for a pilot of a tiny plane to suddenly find an elephant (or even a warthog) in front of you. (This was the procedure followed at all the bush airstrips.) After the plane took off safely, Rogers drove the four of us to the camp, stopping to see a bunch of interesting animals on the way. For the record, our first big-mammal sighting was an Oryx, just outside the airstrip.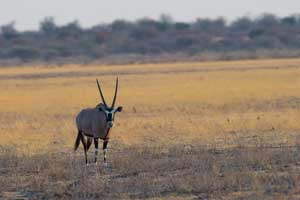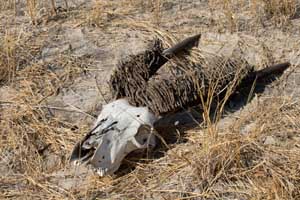 Surprisingly, shortly after seeing the live Oryx, we encountered an Oryx skull on the ground, complete with horns, but the horns were covered by a bizarre-looking "growth" which turned out to be casings from something called "horn worms." The skull is just bone, but the horns contain a lot of protein and other organic material and the horn worms subsist on that.
The images on the left and right show a live Oryx and an Oryx skull with the horns covered by the sheathes of horn worms. (Remember that you can click on the thumbnails to obtain higher-resolution versions.)


Tent Cabins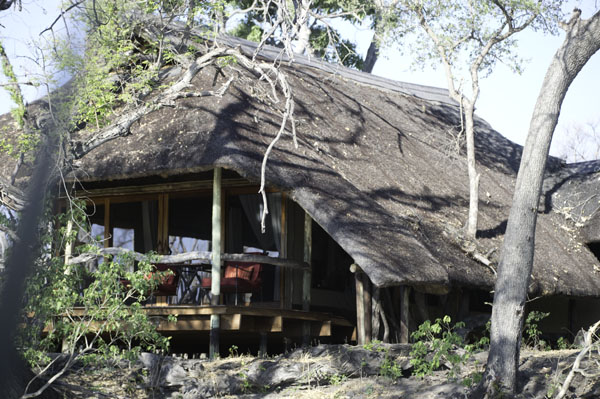 At all the camps the lodgings were about the same: very fancy "tent cabins." They were tents only in the sense that the walls were made of material rather than solid but they all had basically the same design: a living room/bedroom with a divider that had a room behind it with sinks and storage, and a bathroom and shower room. There were power outlets of every sort, so I could have used any of the adapters I'd brought including none at all. A typical tent cabin (at Chitabe Camp, not Kalahari Plains Camp) is shown on the left.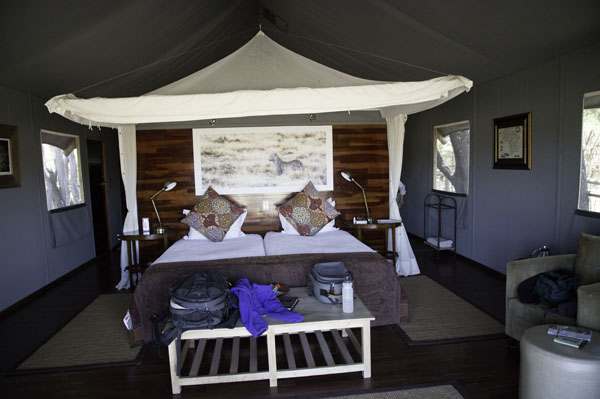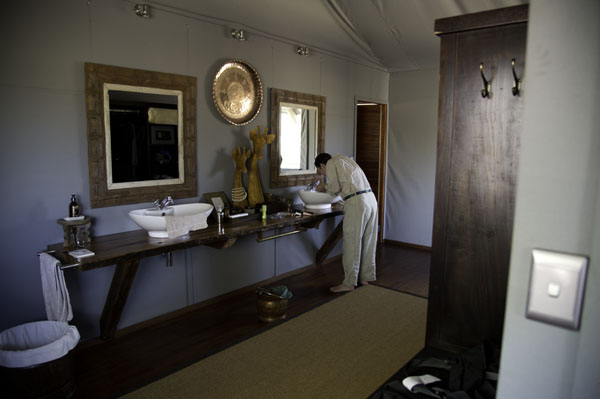 The interiors of the cabins were quite comfortable, too. See the two images above. They claimed the water was filtered sufficiently that we could drink it, but asked us not to, and instead to use special drinking water. The beds had built-in mosquito netting around them that was open during the day and closed at night. Every room had a small library of bird and animal guides plus other reading material and they were all very comfortable.
Every day it seems like the rooms were made up two or three times, including having the beds "turned down" with the mosquito netting closed when it was time for bed. It was excessively luxurious, but at least we did spend a fair amount of time in the cabins during the hottest parts of most every day.
A Game Drive
We went on our first game drive that afternoon, and of course, since it was our first in Africa, everything was amazing. I was also learning how to use my camera equipment from a Range Rover.

None of the camps had any sort of fence to keep out the wildlife, and at all but the Kalahari camp, all the guest cabins were connected to the main lodge by means of raised walkways that we had to stay on. It was certainly a possibility that anything could come right up to (or even on) the walkway: elephants, hippos, lions, or whatever. Vervet Monkeys were frequent walkway travelers. For that reason, we were allowed to walk the walkways by ourselves in daylight, but if we wanted to move from cabin to lodge or vice-versa in the early morning or at night, we had to have a member of the staff escort us.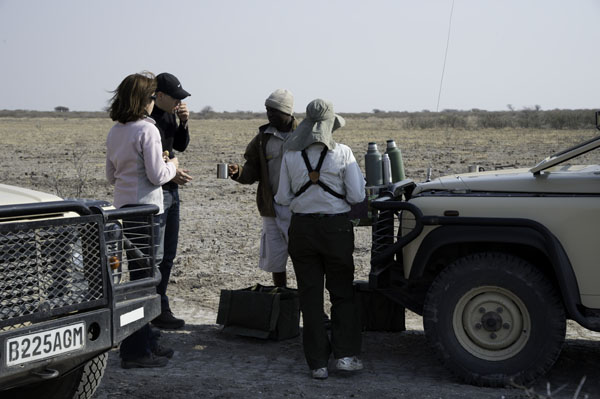 Almost every day's schedule at every camp was similar: Awake at 5:00 or 6:00, followed by a quick breakfast. Then begin the morning activity, which was usually a game drive, but sometimes something else. In the middle of the activity, a "tea" break with tea or coffee plus some cookies or biscuits or similar. We'd return to the lodge by about 11:00, have lunch, and then we usually spent the rest of the (hottest part of the) afternoon in our cabins. This usually meant a shower and a nap, and I also tried to make sure that I transferred all the morning's photos to my laptop and got all the camera batteries recharged. We also tried to make sure that we listed all the animal sightings on our checklist. The image shows Ellyn at tea with Monica and Andy during a morning game drive.
At about 4:00 pm there was another tea in the main lodge with coffee, tea or juice plus some goodies to eat, some sweet and some not. Then the afternoon activity began at 4:15 or 4:30: another game drive or possibly something else. When the sun went down, we'd stop and have a "sundowner:" for us usually a gin-and-tonic, plus a few more tidbits to eat, after which we'd usually return to the lodge, have a short break, and then eat dinner at 7:30 or 8:00. If it was a travel day between camps, the schedule was basically the same except that you'd be driven to the airstrip and fly to the new camp during the midday break. The lodges were all synchronized and in communication, so sometimes you'd have lunch before flying and sometimes afterward, but it always worked out smoothly.
So if you counted carefully, there were six meals per day: the usual breakfast, lunch and dinner, but two teas and a sundowner. These luxury safari camps aren't the best place to lose weight, especially since the opportunities for exercise are so limited. Basically the only exercise I got consisted of moving my camera gear around.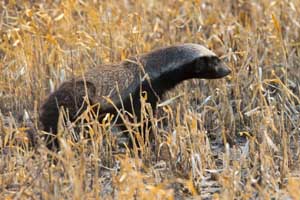 The next day we had a long game drive in the morning where we saw some good birds and our first wild giraffe, but the best sighting was perhaps the Honey Badger, although it was at quite a distance. The Honey Badger is a really nasty beast: not too big, but with a disposition that's something like that of a wolverine. We had no luck with lions, but I was finally getting into the hang of using my camera equipment in a Range Rover.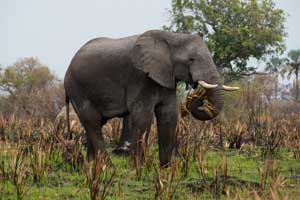 It seems almost impossible for the herbivores to obtain enough food given the very dry conditions, especially in the Kalahari, but also at the other camps. But they do what they need to: on the left is a photo of an elephant, chowing down on some pretty dry, unpleasant stuff.


The Bushman Walk
The second afternoon's activity was a "Bushman Walk" where a young guy from the local bushman tribe, but who was educated in the local schools and spoke English quite well, took us on a hike to show us the sorts of things that his ancestors and some existing bushmen do to make a living: what sorts of plants they eat or use for other purposes, what sorts of animals they ate, how they caught/killed them, how they made fire, how they constructed shelter, et cetera.

It's a tough life and they basically eat anything that's edible. Near the beginning of the walk he pointed out some scorpion holes and said that they were edible. I asked him how bushmen got the scorpions out and he demonstrated. He used a sharp stick to loosen the earth around the hole, and then dug out the loose dirt with his bare hands. I asked whether that was wise or not, given the nasty stings that some scorpions can deliver, but he said that the scorpions always back into their burrows, and all you were likely to get is a very slightly painful pinch from their tiny pincers.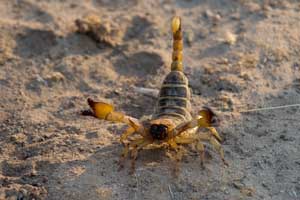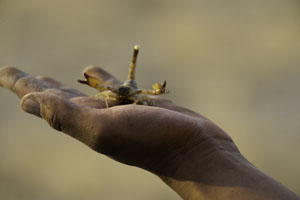 He'd dig a little bit, scoop some dirt, dig some more, et cetera, since the hole was not a straight line and descended in an erratic spiral. When he was about 8 inches deep, he got the scorpion pinch and then presented a twig to the scorpion which it grasped and he pulled it out to show us. When the scorpion had calmed down a bit, he even put it on the palm of his hand, so maybe they're not quite as aggressive as they're made out to be, but you won't see me doing that! He then started a new hole with his sharp stick and let the scorpion back into that so we didn't have to eat that one.
Another interesting thing he showed us was a relatively tiny bow and arrow set he had that, when the arrow tip was coated with a sufficiently deadly poison, could be used to kill a zebra or giraffe. There's apparently a tree whose leaves contain a pretty toxic substance, and there's a beetle larva that eats those leaves and sequesters a very concentrated version of that poison, undoubtedly to make the larvae very distasteful to its predators. The collected mashed larvae are combined with a few other toxic things to make the arrow poison.
The bushman just needs to get the tip of the arrow into his prey and the arrows have a break-away portion so that the prey can't pull out the arrowhead simply by pulling out the shaft. Then it takes many many hours for the poison to act, requiring the bushmen to follow the wounded animal until it drops. The bushmen are probably all great long-distance runners.
He also showed us how to make a snare and how to make fire by twirling a hardwood stick in a hole in much softer wood. He tossed a few grains of sand into the hole to increase friction, and within a minute or so he had a smoking ember. When he was transferring the ember to a handful of dry grass to get a fire going his hands trembled a bit and somebody joked with him that it was perhaps the scorpion venom that was beginning to take effect. He laughed so much that he almost lost the ember, but recovered and got his fire going.
The morning drive on our last day in the Kalahari we did not have much luck. There was a report of a leopard, and we tried to find it, but without success. After packing our gear, we flew during midday to the next camp: Chitabe.
Chitabe Camp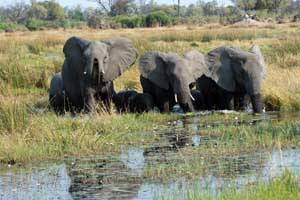 To get to Chitabe from Kalahari Plains we flew first to Maun and then to Chitabe. Luckily, we were on the same physical plane for both parts of the trip so we just left all our gear abord the plane and didn't have to take it in and out through security. (Maun is, after all, an international airport, so they've got all the usual stuff to check for explosives, et cetera.) At the airstrip near Chitabe we met the man who was to be our guide (in private vehicles this time) for our stay: Molemi. On the drive back to the main camp we could see that things were very different: many, many of the trees were totally smashed and there was elephant shit everywhere. Of course it wasn't long before we saw our first wild elephant.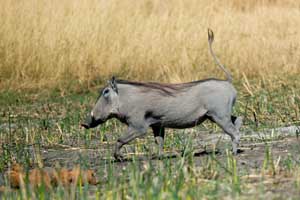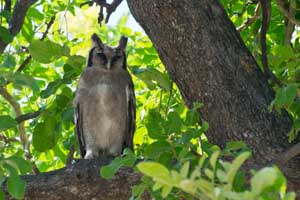 Chitabe Camp is different from Kalahari Plains in that there is some water, and it seemed more like what you usually think of as an African safari. In addition to the elephants, there were Zebras, Greater Kudu, more Giraffes, Hippos, Warthogs, Baboons, et cetera. There were also some great birds, and I think the "best" bird for the first day was the Great Eagle Owl (shown on the right). I admit that I also really liked the Warthogs!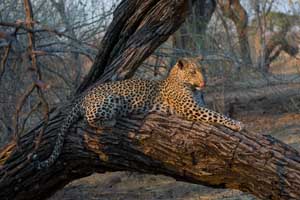 The next day, however, we found our first Lions! Since they were the first ones, I took hundreds of photos, even though, in retrospect, the lighting wasn't great and they were basically just lying there. Later in the day we got a report of a Leopard, and were able to find her, too. Again, too many photos at first, but then she got up and moved to a great spot on a slightly-elevated tree trunk and I got my first great big-cat photo!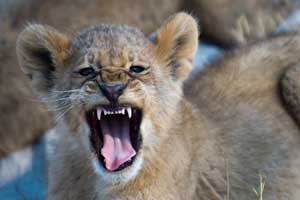 As the days went on I got to be better and better with my camera equipment and Molemi kept coming up with good sightings. We got more lions, some Jackals, various good birds, et cetera. On our final day in Chitabe we got the best lion photos of the trip: we found a pride that included a couple of cubs who were incredibly photogenic.
We left at noon and flew to a relatively nearby camp: Xigera. (The "X" actually stands for a "click" sound that's in the bushman language, and the best that most of us Americans/Europeans can do is to pronounce it "Kijera." Our guide, Dennis, met us at the airstrip and drove us to the camp. Dennis was also a great guide, but the one funny thing about him was that he often referred to himself in the third person, saying something like "Dennis will guide your boat today." The first couple of times it was pretty confusing and I found myself thinking, "But I thought you were Dennis." But after a bit it just seemed normal.
Xigera Camp
Much of Xigera camp is built over water, right on the Okavango delta. Instead of game drives being the major activity, there was also the possibility of traveling by water, either in a Makoro (a canoe-like boat) or on a slightly larger power boat. One of the main things that draws birders to Xigera Camp is that there's a good chance of finding Pel's Fishing Owl: an owl with the unusual habit of hunting for fish for a living. When our friends who recommended the camp returned from their Africa visit the year before, the first thing they told us was that they had seen this fishing owl.

Our Swiss friends Andy and Monica happened also to be there for the same three days we were and that was great: good company.

After settling into our tent cabin and taking a nap, we went to the usual afternoon tea and then, for the afternoon activity, took a ride in a Makoro. For the two of us there were actually two boats: our guide Dennis was in the lead boat, going ahead and looking for stuff. We two were in a following boat with a "poler" pushing us along. We saw some interesting stuff including our first African Fish Eagle, but then Dennis told us that he'd heard that one of the other guides had found Pel's Fishing Owl.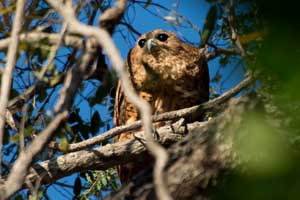 We headed over to where the owl had been spotted and when we got there it seemed like every guest at Xigera who had been in a Makoro (not too many, really: maybe eight people) had gone to the same site. We got out of the boats and hiked onto an island, looking for the owl. I was a little concerned since most of the guests were talking loudly and making no effort to make a quiet approach, but luckily that didn't bother the owl and we found it within about 15 minutes. I got a pretty good photo, so, within a couple of hours of arriving at Xigera, we'd seen the "best" bird at the site.
The next morning, instead of doing a standard game drive, we headed back to the island with the owl, hoping to get a more private viewing and to have plenty of time to get some better photos. Also, there were rumored to be three owls on the island: two adults and one juvenile, and perhaps we could see all three of them. It was sure worth the trip: we found all three, including a nice view of the juvenile in pretty good light.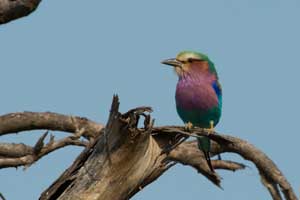 At Xigera we got lots of nice bird sightings and photos, including some of certain Bee-eaters and of the Lilac-breasted Roller. I also got a sequence of four photos of the African Fish-Eagle taking off that are pretty sharp. Finally, I got some photos of the Golden Weaver in the process of weaving its nest. The Fish-Eagle and Golden Weaver photos are below.
In the afternoon of our final full day there we took a boat ride to the "lagoon" where there's a beach and some very clean water to swim in, if we wished. We were assured that there were no crocodiles so I figured I'd go swimming, just to say I'd been swimming in the Okavango delta. Andy and Monica joined us for the boat ride. The water level was pretty low, even for the end of the dry season, and Dennis had a bit of trouble getting the boat to the lagoon due to low water. In fact, when the beach was within sight, the water level got so low that it was basically impossible to proceed in the boat even though we all got out of the boat and tried to haul it by hand over the shallows, so we waded to the beach. It was a little worrisome since I was carrying a backpack with a lot of camera gear (since there were supposed to be African Skimmers there) and although the first part of the wading expedition to the beach was in shallow water we also had to wade across a fairly deep channel (up to my waist) with a significant current.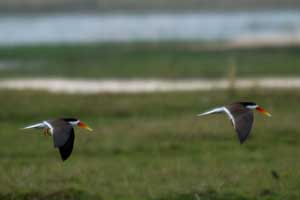 We made it without incident, and after trying to get photos of the Skimmers for a while (good photos were basically hopeless in the low light and due to the high speed of the birds) I went for a swim. The current was very strong (which is probably why there were no crocodiles). I'm a pretty good swimmer, but when I tried to go upstream, the bottom seemed only to inch by. If I tried to swim breaststroke, I basically stayed in place in the water. Swimming downstream, however, was a real trip! As advertised, the water was brilliantly clear. Of course while wading waist-deep in water, most of our clothes got pretty wet, and in trying to dry things off/warm up we got a look at everyone's underwear (This IS importart later in the story: believe me!)
We waded back and again I avoided dumping all the camera gear into the water, although I'm pretty sure that no human ever waded more slowly and carefully than I over that section of water. Then we dragged the boat back to a deeper channel and started the ride back.
When we got to the Range Rover, somehow the topic of United States politics came up and Ellyn and I delighted in telling the Swiss couple about some of the more bizarre things about Mitt Romney. This included, of course, a discussion of Mormonism, including a discussion of their "magic underwear." We were being pretty insulting and suddenly Ellyn said, "I sure hope you're not Mormons." But of course I said, "We know they're not: we've seen their underwear!"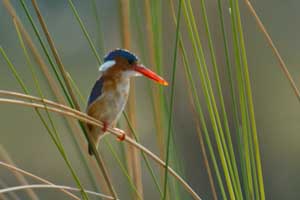 My only big failure at Xigera was that I was unable to get a good photo of the Malachite Kingfisher. I got some good looks with binoculars, but nothing great on camera. The photos I did get were of a bird so far away that when I crop to just the bird, it's pretty low-resolution, and the highest-quality version I obtained has some reeds obscuring part of the bird.


Savuti Camp
Our final camp in Botswana was at Savuti, and our guide there was named Ace. Originally, the Savuti Camp was a dry camp since the Savuti Channel (a waterway that connected the Okavango to the Chobe river in the north) had dried up some 30 years ago. But two or three years ago, for somewhat unknown reasons, the channel had reappeared and Savuti Camp was very nearby. So there was both water and dry-land viewing.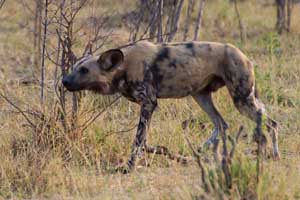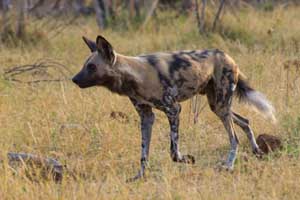 Ace was great at tracking animals, and clearly the high point of that camp was finding a group of Wild Dogs which we did during the game drive on our first full day. The dogs were chasing a herd of Impala, and it was incredible to see just how fast they could run and how organized their pack was. It made the photography pretty challenging, but I did get a few nice ones. The other big predators we saw (like Lions, Leopards, Hyaenas, Jackals) were very slow-moving since they weren't on a hunt. Even when the dogs weren't hunting, they still loped along at a pretty good pace. They also seemed to behave in some ways very much like standard domestic dogs.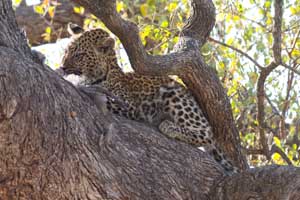 In addition to the dogs, we also got some very nice views (and photos) of Lions and a Hyaena (although the light was low at the end of the day for the Hyaena sighting). The best photos were of a leopard and her cub, both high in a tree. The leopard had killed an Impala whose body was at the base of the tree, and while we were there, the mom was basically resting while the cub was busy tearing apart the carcass of a Helmeted Guineafowl. In fact, we spotted the cub by noticing that feathers were raining out of the tree. In the photo on the left you can see the rain of feathers. (They are easier to see if you click on the image to obtain the larger version.)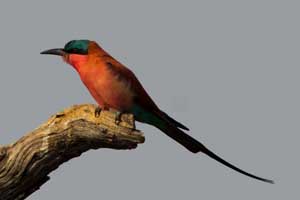 On the next-to-last day we went to a nesting site for the Southern Carmine Bee-eater, but due to a bit of unseasonal rain or something, the site was basically deserted. We saw a few individuals in trees, but nothing photograph-worthy, so that was a bit of a disappointment.
On the final day, however, we made up for it, and I got some great photos of the bird and we had another "canonical" African sighting: a dead Zebra being torn apart by vultures. We spent a fair amount of time with a group of Hippos, waiting for one of them to give me a giant "yawn" for the camera, but no luck on that front. But all in all, Savuti was a wonderful place.
Random High Points
At Chitabe, returning from a game drive after sundown, Molemi found a Civet, which is apparently a pretty rare thing to see.

At Xigera, while we were having dinner at the lodge, one of the guides spotted a Leopard running along one of the pathways between the lodge and the cabins. I just got a glimspe of it as it disappeared around a corner.

At Savuti we happened to be there during Botswana Independence Day. There was a pretty wild celebration before, during and after dinner. I was elected "assistant chief" for the evening and had to give a speech and try to join the Botswanans for a dance after dinner. I was sufficiently lubricated with wine that I had no problems whatsoever.
The Trip Home
Returning home was another marathon process, and we basically retraced all our steps, but the layovers weren't nearly as long: about four hours each in Johannesburg and in Frankfurt. We were sure happy to arrive, safe and sound, in SFO.
---
Visit my Home Page.

Want to send me mail? Click here: tomrdavis@earthlink.net.