Sally Lightfoot Crabs
Last updated: June 30, 2001

Return to Galápagos index
Go to Tom Davis' Home Page


Click on any of the thumbnail images to see a larger version.
Sally Lightfoot Crabs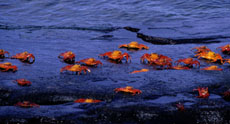 On the left is a group of Sally Lightfoot crabs on the island of Fernandina. On the right is a closeup of an individual. The crabs had different colors on the different islands, but they seemed to be the most colorful on Fernandina.