Race Report: Morgan Hill Sprint Triathlon @ Uvas 2009
Tom Davis
Visit Tom's home page
Note: You can click on any image to obtain a larger version.
For me this was a "C"-level race. I didn't do much to prepare for it, but figured that the more triathlons I do, the more experience I'll get. It was the first sprint triathlon I've done (0.75 mile swim, 16 mile bike, and 5 mile run), so I wasn't positive about how I should approach it -- all the other triathlons I've done recently have been olympic-distance or longer. Since it was short, my plan was that I wouldn't hold back and "save" energy for the next segment.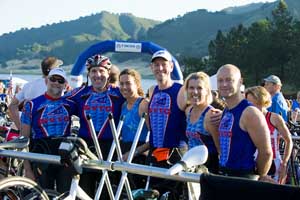 Here are a few members of SVTC (Silicon Valley Triathlon Club) before the race. I'm the guy on the left who forgot to take off his dark glasses for the photo.
The race is in Morgan Hill, about an hour south, and the instructions said to be there an hour and a half before the 7:00 am start, so we left home at about 4:30 am. We got parking pretty close to the start, and that turned out to be good. When we left after the race, the sides of the roads were packed with late-arrival cars for perhaps a mile in both directions.
I was scheduled to leave in the next-to-last wave at 7:28, but when we arrived it turned out that a couple of additional waves were added to make my starting time (with the "men, 50 and older" wave) at 7:40. There was plenty of time to set up and the only error I made was that I didn't bring anything to eat before the race. Since the race was so short, I don't think that mattered, but it would have been nice to have a sandwich or something to eat an hour and a half before my start.
There were two top-level professionals racing (Chris ("Macca") McCormack and Chris Lieto). They started at 7:00, so had a 40-minute lead on me which meant that by the time I got on my bike, they would have finished the bike loop and would be running. The run course is an out-and-back along the first part of the bike course, so I did see them running as I started out on my bike, somewhere between one and two miles into their running leg. They were side-by side, matching each other pace for pace. In fact, they finished the race at exactly the same time, but I guess Macca was a tiny bit ahead, since he's the official winner. I can now truthfully say that I've passed both of them in a triathlon (although I was on a bike and they were running).


I taped two packets of Accel-Gel to my frame under the headset, loaded the aero bottle with water, and carried a bottle of Cytomax on my down-tube.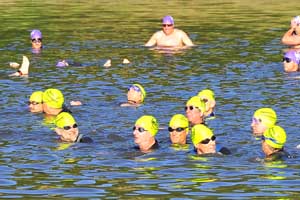 Here's the geezer wave (males 50 and over) in the water, getting ready for the swim start. I'm in the lower left corner of the image: the guy with the gray beard.
The water in Uvas Reservoir was not cold at all, especially in a wet suit, and I stepped in perhaps 15 minutes before my wave, thinking I'd get out after the shock, but the water was fine, so I just floated around and did some lazy strokes until it was my turn to start.
I decided not to make the same mistake I did at Wildflower, and made sure I was in the position preferred by the fastest swimmers -- at the front of the pack, and on the left (the race was counter-clockwise, and I wanted to be on the inside, next to the buoys). I swam pretty hard, and the only problems I had were when we started catching people in the waves that had left before us, but by then they were pretty spread out, and going so slowly that they were easy to pass.


I could tell that I pushed hard in the water since I felt a little wobbly getting out at the end, so I walked a few steps on the ramp, but was able to start jogging pretty quickly.
The T1 transition went smoothly and I was off on the bike course. The bike route is a large loop that surrounds the reservoir, and I'd ridden on a lot of the roads before, but only once or twice. There were a few rolling hills, but it was basically very flat. According to my bike computer, I averaged a bit over 20 mph around the course, and spent most of the time passing people. I was passed by a couple of guys in their 50's and played cat-and-mouse with a guy with a "66" on his calf. One problem with triathlon is that you don't know where you stand -- how many folks in your age group are ahead of you. Even if you knew your position out of the water (I didn't) you might have been passed (or passed people) in transition. The other problem is that some of the more competitive guys write the wrong number on their calves so you don't really know whom you're competing against. But as far as I know, I was not passed on the bike, so at least maintained my position, whatever that was.
I did ride pretty hard, at least according to the heart-rate data that I looked at after the ride. In spite of the fact that the course was pretty flat, I stayed in pretty low gears (and thus at higher cadence). I barely used my high or low gears, and probably rode most of the race in my 53/14 or 53/15.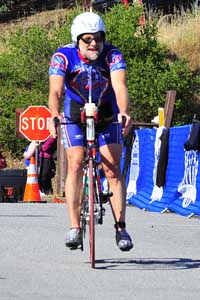 Here I am, coming in at the end of the bike leg.
I ate both of the Accel-Gel packets during the ride, finishing the last one about four miles before the end, so my body had at least a few minutes to begin to digest it. I only drank about half the water and only a little bit of the Cytomax. I was concentrating so hard on riding and the ride was so short that I was distracted. I made a mistake on the last Accel-Gel, and ripped it off the frame a little too forcefully, and it glitched my steering enough to give me a little fright. I'll be more gentle in the future ...
The T2 transition also went well, and I started on the run, which was an out-and-back 2.5 mile course, for a 5 mile total. It's a nice setup for a race, in that with only two aid stations (at miles 1 and 2), there are effectively four of them for the runners; one at every mile. I decided not to mess with my GPS unit to save time, but I think, in retrospect, that I should have. It seemed like it took forever to get to the one mile marker, but that's probably because I was a bit wiped out from the bike leg. I wanted to go as hard as I could, so I started alternating 30 "fast" strides with 30 "moderate" strides, and I think that helped. I used my "strong and relaxed" mantra a fair amount on the run.


On the bike I never used any mantras. Things were so crowded on the road that I was constantly passing people and so was almost always thinking about how to do that quickly and safely. There were a lot of weaker riders in front of me who were not riding on the right, and I constantly was deciding whether to try to squeeze by them on the left (being careful not to cross the double-yellow line), or to pass them on the right (which I often did, after an "On your left!" had no effect). So I spent the entire bike ride thinking about technical aspects of the ride, and used basically no mantras.
I think that mantras are meant to keep you "in the moment" when your mind starts to drift, and if you're in the moment already (worrying about bike-handling details, for example), there's no need for them. Similarly, on the swim I've never used mantras either, because there's a lot to do: I concentrate on getting more power out of my stroke, sighting on the buoys, figuring out how to pass people, and so on.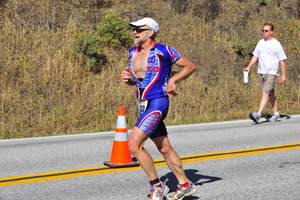 Here I am at the end of the run.
On the run I was passed by one guy with a "61" on his calf, and he was the same guy who passed me on the run at Wildflower. He was going a lot faster than I was, and I tried to keep up, but could tell that I'd blow up pretty quickly at his pace. On the run I was passed by a few people, but not too many. I did pass a lot of folks. Some people passed me going so fast that I was pretty sure they were parts of relays, but I wasn't sure. I didn't notice any "relay" indications in the body marking.
It was great to get to the turn-around, and then things started to feel better. I was pretty happy with my run, and was especially happy to finish before things really got hot.


After the race there was a nice post-race meal of pizza, bagels, and salad, and we spent about an hour hanging around with friends. By the time we started back to the car, it was about 100 degrees out, and there were still people coming in on the run. I am so glad I finished before it got that hot.
Here are my splits:
Swim: 19:21.0 (pace: 1:28/100 yards)
T1: 2:21.6
Bike: 46:42.1 (average speed: 20.56 mph)
T2: 1:16.0
Run: 39:30.0 (pace: 7:54/mile)
Total: 1:49.11.0
I was fourth in my age group. I had comparable times to the three who beat me on the swim and bike, but my run was significantly slower.
Return to my home page.
Want to send me mail? Click: ( tomrdavis@earthlink.net)