Birding Trip Report: Jamaica 2014
Tom Davis
Last modified: February 19, 2014

Note: All of the bird photos on this page are thumbnails and a larger version can be obtained by clicking on any of them. Here is a section on the camera equipment I used and here is a discussion of other equipment we took and some details about travel in Jamaica. Click here for our bird list.
Getting There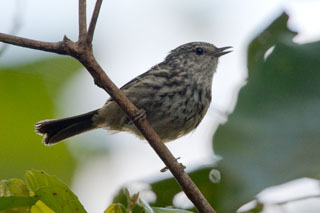 My wife Ellyn and I did a birding and bird photography trip to Jamaica in February of 2014. We were there for seven days of birding (actually six, since the first and last were half-days). We organized the trip via Arrowhead Birding Tours run by Ricardo Miller out of Kingston and were very happy with the results. I did a lot of bird photography during the week and some typical photos of birds appear more or less (but not completely) at random in the text. If you want details of where and when a shot was taken, all that information is included as metadata within the photos, including the GPS data for most of the shots.

The photo on the right is the Arrowhead Warbler; the bird after which our tour company was named. (It's funny, but in the Jamaica bird guide, it's called the "Arrow-headed Warbler". I did a Google search for "Arrowhead Warbler", "Arrow-headed Warbler" and "Arrowheaded Warbler" and there are hits for all three with about twice as many for the second version and just a handful for the third. But it's called the "Arrowhead Warbler" in the IOC master list, so I'm sticking with that.)



Arrowhead Birding is a small company and all of the guides have full-time jobs, so we actually had three different guides for different parts of the trip, and all three were great.

I am primarily interested in bird photography and am not a great birder (or a great photographer, either) and Ellyn is more interested in the birds and their calls. We did tell all the guides, however, that I'd prefer to get a good photo of a common bird than to try to check off as many birds as possible on our list. (And you can see that this is the case: here's our complete list of birds seen on this trip. We don't "count" birds that we only heard, since we don't know the calls for most Jamaican birds and we'd just be taking the word of our guides for most of them.) For example, we could have gotten a lot more shorebirds but we never birded the shore, other than from the car as we were driving from one site to another. We'd seen most of the shorebirds before anyway. Also, there are wetlands in the western part of the island and we never got that far but again, most of the birds there were birds we'd seen before. To comfortably bird both the east and west ends of the island would have required a few more days.

Ellyn's target birds were the Streamertail hummingbirds since they're locally called "Doctorbirds." She also wanted to see the Jamaican Lizard Cuckoo, simply because it has a cool name. There are good photos of both of these birds. farther down on this page.

There seem to be only a couple of bird guide books for Jamaica, and we purchased both of them to study before we left. All the guides we met on the island seemed to use exactly the same two of them: "A Photographic Guide to the Birds of Jamaica" from Princeton University Press and from the Princeton Field Guides series, "Birds of the West Indies." Neither is great. There are too many birds from other places in the West Indies guide, but the illustrations are better since they're hand-drawn and not photographic images. There are only photos in the Jamaica book, which are nice, but the photos are unable to emphasize the field marks. Since we were fairly heavily loaded anyway we only took the Jamaica guide with us to look over in the evenings.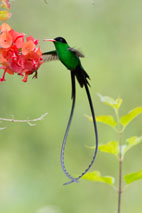 We took the red-eye flight from San Francisco to Miami, arriving early in the morning and then a flight from Miami to Kingston where we arrived in the late morning. We were met at the airport by Ricardo from Arrowhead and taken to lunch and some birding in Hope Gardens just on the edge of Kingston where one of the first birds we saw was the "Doctor Bird": the Red-billed Streamertail which is the hummingbird that's the national bird of Jamaica. (See the photo on the left.)
There were a lot of warblers there as well as other birds, but I didn't get too many good photos since I was hand-holding the camera with a shorter focal-length lens because we had come directly from the airport and I was too lazy to assemble my tripod which was split into three pieces of luggage and the larger lens is impossible to hand hold.
The Streamertail photo to the left was not taken at Hope Gardens, but later in the trip.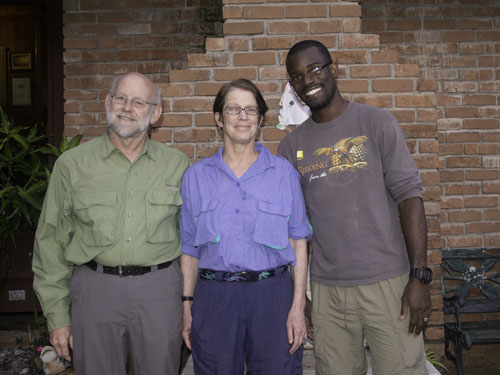 Tom, Ellyn and Ricardo at the cottage in the Blue Mountains.


After lunch and a few hours of birding in the garden we were taken to the City View Hotel on a hill overlooking Kingston where we spent the first two nights of the trip and the last night before we flew home. It's a beautiful place and the view is amazing. It's also far enough from the city that it's pretty quiet at night. (Other birders' blogs we read before the trip complained about the noise in lodgings within the city. The disadvantage is that it's a bit of a drive -- about an hour from the airport -- but it was very comfortable and the owners were willing to go out of their way to deal with the unusual habits of birders: up before the crack of dawn, and exhausted early in the evening.) In fact, the original plan was to get set up in the hotel and then dine in a restaurant down the hill, but Ellyn and I were so tired from the trip, time change and birding that the hotel ordered some delicious jerk chicken from a local place to be delivered, and that was great.
There was a very solid WiFi signal in the hotel. I was worried for the first hour or so when all I had was a solid signal and could connect only to the router and not to the outside world, but that was fixed and we had a solid internet connection from then on and also for the final night.
The only thing that could have been better at the City View Hotel was that neither of the rooms had a chair and table in them, so it was hard to work on my photos on the computer.
Hellshire Hills (2/8/2014)
Our second day in Jamaica was our first full day of birding. We got up early and drove to the southwest of Kingston near the coast to an area called Hellshire Hills. Our guide was Ricardo, the owner of Arrowhead Birding and he claimed that the name "Hellshire" was due to the fact that it was going to get hot as Hell, so an early start was recommended. It was quite different from most of the other places we birded: very dry and coverend with thorn bushes and cactus. I wasn't sure just what the hiking/driving ratio was going to be so I (foolishly) took only my small lens (200mm f/2.8, but with a 2x extender, so it was effectively a 400mm f/5.6). At least I had a tripod, so the shots were a lot better than hand-held.

There's a complete description here for those with an interest and a strong stomach for details about my photo strategy. (I have, however, sprinkled some nice random bird photos in with the camera stuff, so it's worth looking through, even if you don't read a word.)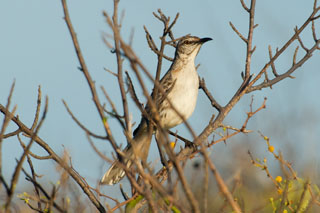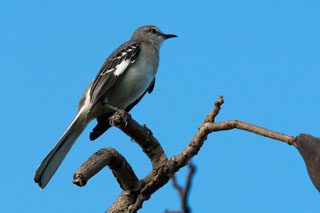 On the left is the Bahama Mockingbird (taken on the second day in Hellshire Hills) and for comparison, on the right is the more common Northern Mockingbird. We saw the Northern Mockingbird all over the island, but the Bahama Mockingbird was only in Hellshire Hills.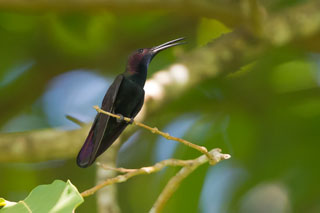 The target bird was the Bahama Mockingbird, and that wasn't too hard to find (photo above). The other important bird there was the Jamaican Mango (hummingbird) which is also sometimes hard to find, but we did get some good looks there. A photo of the Mango appears on the right, but was not taken at the site. In fact, I'm not happy with many of the photos I took in the Hellshire Hills and would have done much better with a larger lens.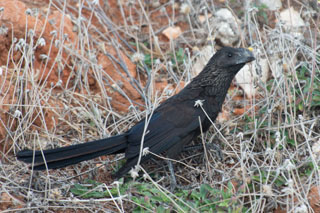 The only other bird photo I got there that I didn't eventually get a better version of was the Smooth-billed Ani, on the left. Since we were close to the shore, we got a few water birds: the Tri-colored Heron, a Yellow-crowned Night-Heron a Belted Kingfisher and a Magnificent Frigatebird. All were far too distant for a decent photo. We also saw a number of warblers of various sorts.
Here's the rest of the list: Common Ground Dove, Jamaican Vireo, Praire Warbler, Bananaquit, Stolid Flycatcher, Black-faced Grassquit, Yellow Warbler.


(Portmore) Sewage Ponds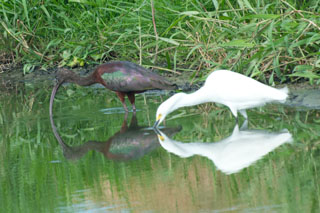 The next stop on our vacation was the sewage ponds. In addition to the birds there were a few big crocodiles (10-12 feet) around so we birded from the car as we drove around. Again, I only used the small lens and got a less-than decent photo of a pure white Little Blue Heron and a half-decent shot of a Glossy Ibis with a slightly out-of-focus Snowy Egret in front. See the image to the right.

In addition, we saw the Yellow-crowned Bishop, the Common Gallinule, Killdeer, Least Sandpiper, Great Egret, Greater Yellowlegs and Spotted Sandpiper.

On the road back we stopped at another pond just off the highway, clambered through some bushes and saw lots of Blue-winged Teal and Black-necked Stilts.

We returned to the City View Hotel for lunch where we saw both Palm Swifts and White-collared Swifts flying around.


Stony Hill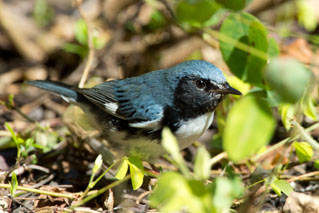 After lunch we rested until about 3:30 (since the birding in that period is pretty shitty anyway) and then we continued on the other side of the hotel from Kingston and drove up to a reservoir (at the Hermitage Dam) that supplies a lot of Kingston's water. It was pretty low: you could see the usual boat ramps about 20 to 30 feet above the water level. We did see some Brown Pelicans, the first of many, many White-chinned Thrushes, both the Pied-billed and Least Grebes, a Black-and-white Warbler, a Rufous-tailed Flycatcher, a Jamaican Oriole and a Black-throated Blue Warbler. While we were there it started pouring rain which we waited out in the car, but didn't see many new birds after that.

I was again using the smaller lens (for the last time) and didn't get any photos I was happy with, but to the left is the Black-throated Blue Warbler, taken elsewhere.

We then drove in our birding clothes to a restaurant in Kingston at Devon House where we met Ricardo's wife, had a lovely meal and returned to the City View Hotel. Both Ellyn and I tried to eat as many new kinds of food as possible on the trip so when we'd see a menu, we usually tried to order something we'd never heard of before and didn't have any bad luck.



From the beginning of the trip, Ricardo had been talking about the "28 endemic Jamaican species" -- birds that can only be found on Jamaica, and that goal of a lot of birding visitors is to see all 28. (Some lists have 30 species, but two of them haven't been seen for many, many years and they're presumed by most people to be extinct.) When we arrived in Jamaica, our goal was simply to see and get good photos of as many old and new birds as possible, but by the middle of the trip it started to dawn on us that with a bit of luck, we could actually see all 28 of them. There are three or four hard ones, but we figured we could probably get to 24 without too much trouble.
Hardwar Gap (2/9/2014)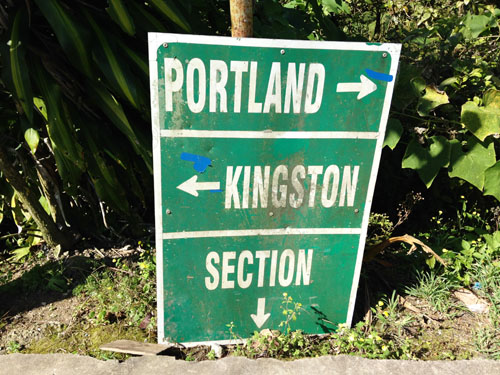 Road signs in the Blue Mountains near Hardwar Gap.



It turns out that most of the rest of the birding on this trip was in forests which makes finding (and especially getting photos of) birds much more difficult. The plan was to spend about half of the day with Ricardo, get set up in a "cottage" high in the Blue Mountains (famous here in the US primarily for the coffee), and then meet Lyndon (our guide for the rest of the trip since Ricardo had to get back to his day job) for more afternoon birding in the mountains.

The road through Hardwar Gap is narrow and twisty and packed with dense secondary foliage on both sides of the road. Since the hillsides are steep, you can easily see birds in the canopy on the downhill side. There is some traffic, but not too much and all the other drivers on the road were very polite and gave us time to get out of their way if we hadn't heard them first. The only annoying thing for a birder is actually that politeness: almost every passing car would greet us with a gentle beep of the horn and a hand wave. I don't think we missed many (or any) birds because of it, however.

From this morning on, I switched entirely to the 600mm lens with the 1.4x extender and the full-blown tripod plus gimbal setup (see camera strategy for the technical details).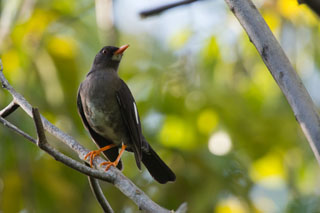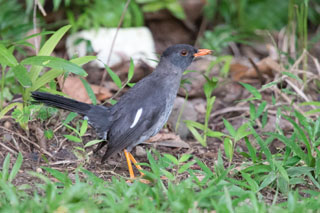 As we drove along the road, we saw lots and lots of White-chinned Thrushes sitting on or near the road that were flushed by the moving car. The "white chin" is very hard to see, but I eventually got a couple of photos that show it clearly. The images to the left and right show a couple of views of that bird and the one on the right shows the chin fairly well.
Almost all the birding on that segment of road was at or above 4000 feet, so it was much cooler than lower down, there were lots of new birds, and a lot of the vegetation looked like familiar stuff at home (at sea level): azaleas, ferns, et cetera.
Here's a list of the stuff we saw. (These lists only indicate the more common birds and the highlights, and do not attempt to list everything, especially the birds that we saw every day, like the Turkey Vulture. There's a complete list of what we saw in a sort of appendix at the bottom of this page.)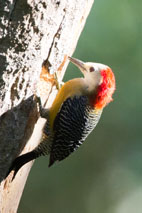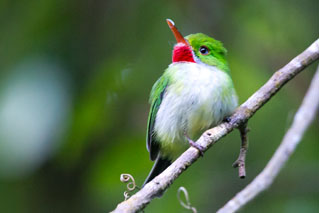 We saw the White-eyed and White-chinned Thrushes, the White-crowned Pigeon, the Rufous-throated Solitare, the Jamaican Pewee, the Orangequit, the Jamaican Oriole, some good views of the Black-and-white Warbler, the Jamaican Vireo, the Blue Mountain Vireo, a Red-tailed Hawk (first described in Jamaica: its scientific name is Buteo jamaicensis), Ring-tailed pigeons, Jamaican Woodpeckers, American Redstarts, lots of Turkey Vultures, the Greater Antillean Bullfinch, the lovely Jamaican Tody, a Worm-eating Warbler, the Jamaican Becard, some Arrowhead Warblers, more views of the Red-billed Streamertail, the Jamaican Spindalis, the Black-faced Grassquit, and a Bananaquit.
The images to the left and right are the Jamaican Woodpecker and the Jamaican Tody; below, from left to right, are the American Redstart and the Jamaican Oriole.


Silver Hill Cottage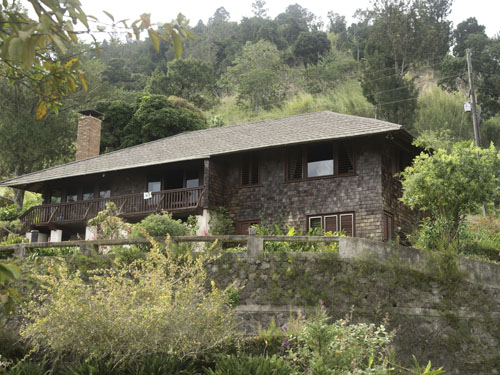 Silver Hill Cottage the the Blue Mountains.



After the morning birding in Hardwar Gap we were supposed to have lunch at the cottage where we'd spend the next two nights, say goodbye to Ricardo, and meet our other guide for the rest of the trip, but things didn't work out that way.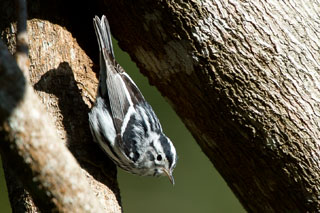 On the right is a Black-and-white Warbler, like those seen in Hardwar Gap.
The caretaker of the cottage had just that day gotten some terrible news and was not at all in a mood to caretake and was very late to arrive. The owner of the cottage said he was sorry, let us stay there, and refunded the total amount we'd paid for lodging for the two nights. So we got free lodging with not much service, but we were only there to eat and sleep so it didn't really matter much. There was also a problem with the guide who was to meet us and he couldn't come until a day later so Ricardo birded with us in the afternoon and arranged for another one-day guide (Roger) to take us the next day. So everything worked out and we saved a few hundred dollars!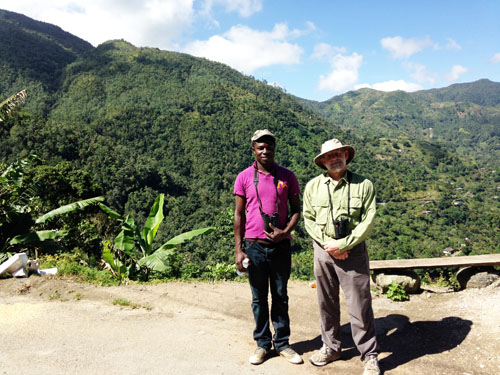 Tom and Roger in the Blue Mountains.


The cottage itself is a bit rustic and totally crammed with all sorts of interesting artifacts, some perhaps 100 years old and dating back to when Jamaica was a British colony. I opened at random a National Geographic magazine from 1937 and went through an article on Rome, Italy. It was a bit bizarre to read how much the author of the article fawned on Mussolini, claiming him to be a savior of the country, with photo after photo of him bestowing awards on Italians, of young "Fascisti" training to be soldiers, et cetera. The other thing that impressed me is that we humans apparently had much longer attention spans in those days. The single article on Rome was more than 50 pages long!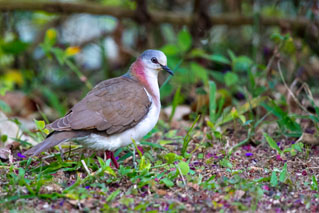 The cottage is surrounded by some wonderful gardens, and Ricardo stayed with us until the end of the day and he, Ellyn and I spent the afternoon birding time out there and saw all sorts of things. I got some quite good photos, too, including good ones of the Red-billed Streamertail and the Caribbean Dove (seen on the right).
Some of the other birds seen there included the Sad Flycatcher, the Jamaican Spindalis, the Yellow-shouldered Grassquit, the Orangequit, the Jamaican Pewee, the Arrowhead Warbler, the Northern Parula, American Kestrel, Jamaican Euphonia, a flyover of the Olive-throated Parakeet and we finally saw the Jamaican Lizard Cuckoo. (There are some good photos of the Lizard Cuckoo in the discussion of camera equipment below, here.)
Since the housekeeper was basically out of commission that first night Ricardo took us to a restaurant at a nearby lodge and then back to the cottage where we said goodbye to him. Our guide for the next day, Roger, we'd meet in the morning.
The cottage was comfortable enough, and the gardens around it are incredible. The only thing that made it birder-unfriendly was the fact that in our room there was only one tiny light (it seemed to be about 15 watts) and if we hadn't brought along headlamps it would have been a bit tricky to get ready to go birding the next morning at dark o'clock, well before sunrise. A couple of hundred watts of light in the room would have made it perfect, but again, at $0/night, the price was certainly right!


More Hardwar Gap and Jamaican Blue Mountain Coffee (2/10/2014)
We met Roger the next morning and he was of course different from Ricardo, but a great guy and a great guide. While we were birding the next morning we met the guy who produces and roasts James Dennis (Jamaican Blue Mountain) Coffee. He said he'd be roasting up a new batch later in the day and we could stop by and purchase some if we liked. More on that below.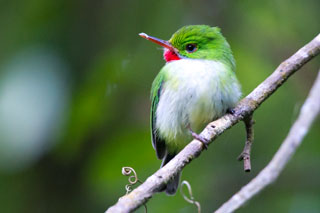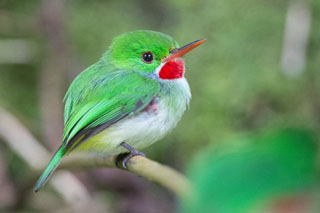 In my opinion, the "best" bird (from a photographic point of view) was the Jamaican Tody, and although it took me a few tries, I finally got some good photos of it with a great deal of help from Roger. To the left and right are images of two different (I think) birds. The little guy is hard to see (green against green) and jumps around a lot, so it's not easy to track. Finally, it's almost always in tangled foliage and the camera's auto-focus system sometimes had a hard time locking on the bird and not on the tangled branches and leaves behind him. Finally, the big lens will not focus on things that are less than about 5 meters from the camera, and we got such a good view of the bird at one point that he was too close for focus, and I had to drag the camera back to get a shot. Obviously, these Todys are not particularly terrified of humans!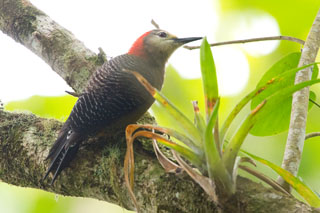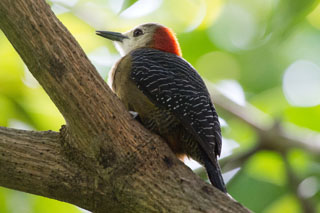 To the left and right are a couple of images of the Jamaican Woodpecker; a very common bird that we saw (or at least heard) almost everywhere we went. Although I tried to get photos every time I saw one, for some reason I always seemed to have bad luck with lighting or something else.
The Tody is not too hard to find, it's just the most photogenic, but we did get (sort of) two of the hardest birds on the endemics list with Roger that morning. We got good views (and mediocre photos) of the Jamaican Blackbird, and we sort of got the Crested Quail Dove. The Quail Dove often works the edges of the road and as we were driving along, one took off in front of us and flew into the undergrowth. Ellyn and I both saw it, but all we could really say is that it had quail-like flight, but there's no way on earth that either of us could have identified it from what we'd seen. Roger knew exactly what it was, but we waited for quite some time, looking into the bushes, but we never saw it again for the entire trip although we tried and we did hear one other one at another site. Some birders consider a bird to "count" if you just hear it, so we can technically take credit for the bird since not only did we hear it, but we saw it flash through the air (according to Roger). With those two birds, we were now in a much better position to see all 28 Jamaican endemics, even though when we started the trip we hadn't even thought of that as a possible goal.
With Roger that morning in addition we saw (among others) the Ring-tailed Pigeon, the Black-throated Blue Warbler, the Jamaican Euphonia, the Jamaican Becard, the Black-faced Grassquit and some nice views of both male and female Jamaican Spindalis.
Below are a couple of photos of the Loggerhead Kingbird:
Coffee!
On the way back from the morning birding we stopped again at the coffee-roasting place and got to watch the whole operation. It's a completely family-run business and the beans are grown, picked, dried, husked and roasted by hand. We tried our hands at the husking and roasting part under the watchful eye of the head Rastafarian. Here are some photos from the place, taken with an iPhone. We bought a few pounds, and I'm currently typing this partially caffeinated on James Dennis Blue Mountain Coffee. Here are some photos: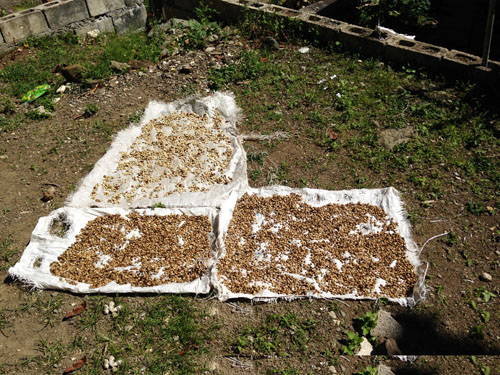 Coffee beans drying in the sun.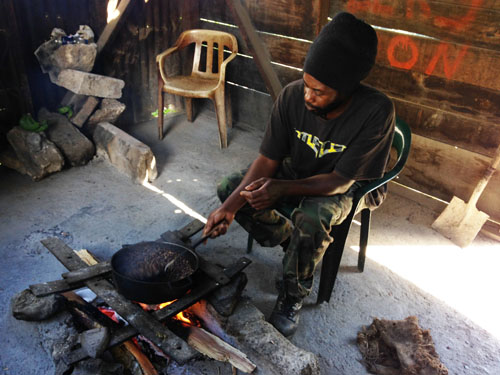 Coffee roasting by an expert.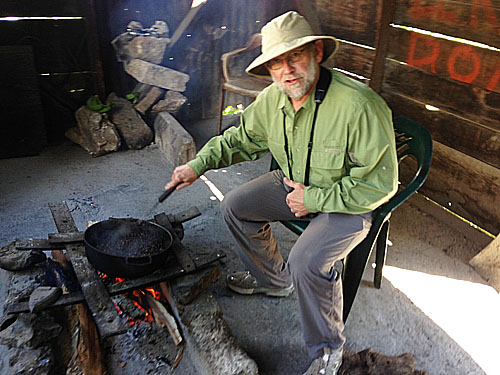 Coffee roasting by an amateur.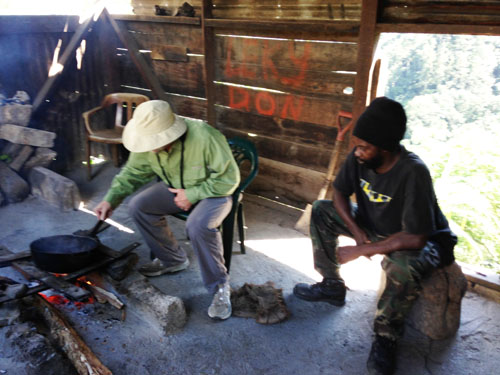 Keeping a watchful eye.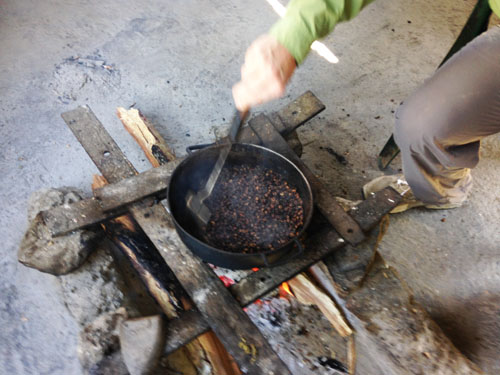 Coffee roasting close up.


Kestrel Porn
We spent part of the afternoon trying to get some better photos of the Streamertail in the gardens around the cottage, but we also took a short drive and the only really interesting thing we saw was a pair of American Kestrels copulating.

The tripod was a little wobbly and the birds were a long way away (so the wobble was intensified a great deal), but I made a GIF of 24 frames (about 2.4 seconds in real time) of the two Kestrels, going at it: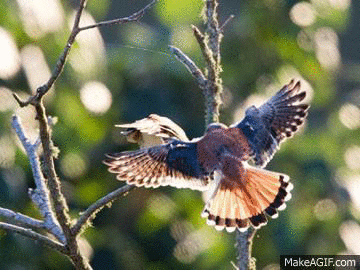 More Silver Hill Cottage/Hardwar Gap (2/11/2014)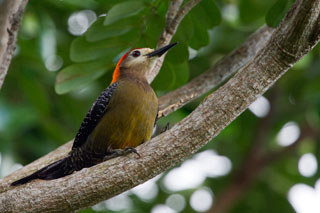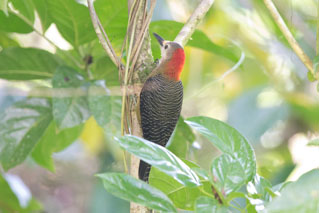 We were joined in the morning by our final guide for the last three days of birding on our trip, Lyndon. We did a little birding in the garden again and then drove back to take a final shot at some of the sites along the Hardwar Gap road in the morning.

I got a photo of the Blue Mountain Vireo and another good set of the Jamaican Tody. The "best" birds in the morning were the Chestnut-bellied Cuckoo and the Rufous-throated Solitaire. I got a few more tries (but again, nothing that's going to make the cover of National Geographic) at the Jamaican Woodpecker. (See left and right.)



After the morning birding we drove down the other side of the Blue Mountains to the north coast of Jamaica and then headed east toward Port Antonio and eventually to the hotel at Goblin Hill Villas. We had lunch at a place on the beach and saw a few shorebirds (Great Egret, Magnificent Frigatebird and some kind of tern). We arrived at Goblin Hill, took a rest, and then did some birding on or near the grounds for the rest of the day.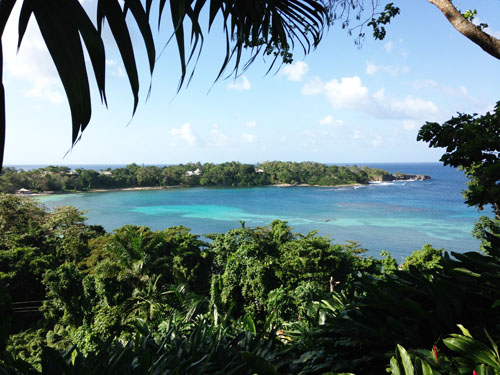 The view from Goblin Hill.


The easiest bird to see there was the Black-billed Streamertail and I got a bunch of good photos of that as well as of the Jamaican Mango. Below are three Black-billed Streamertail photos, all male. The male is supposed to have two streamers, but the only good photo I got was of a bird who had lost one, and young males have no streamers or short ones. I mixed the good flying Mango photos in with the camera section, below.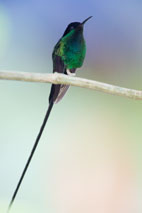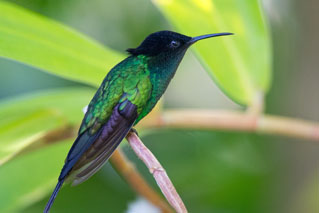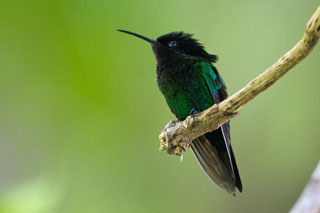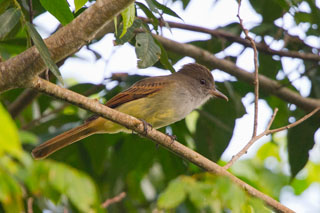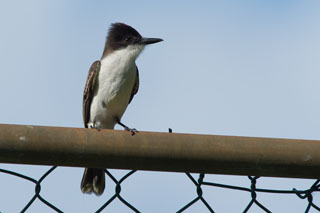 Some other birds seen on the grounds of Goblin Hill were the Jamaican Oriole, lots and lots of Jamaican Woodpeckers, an Olive-throated Parakeet flyover, the Rufous-tailed Flycatcher (left), lots of Northern Mockingbirds and Loggerhead Kingbirds (right) plus the Greater Antillean Grackle.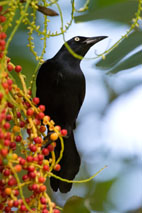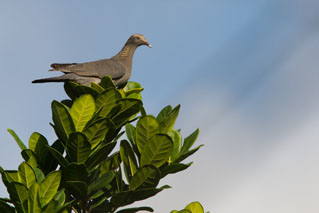 On the left is the Grackle and on the right is a White-crowned Pigeon that we also saw on the Goblin Hill grounds.


Late that night after we'd gone to bed we got a knock on the door, since Lyndon had heard the Jamaican Owl. We went out owling for about 45 minutes, but were unable to find any sign of him.
Ecclesdown Road (2/12/2014)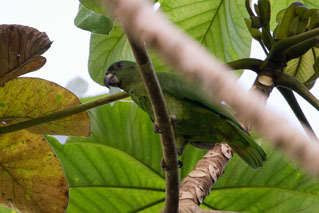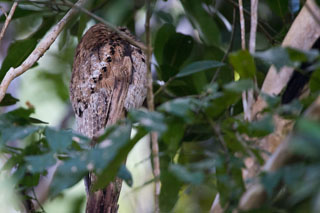 The next morning Lyndon took us east to Ecclesdown Road -- a little-used road that runs inland, but joins the coast highway at both ends. At this point, to complete our set of Jamaican Endemics, we only needed three birds: the Jamaican Crow, the Black-billed Parrot and the Jamaican Owl. We'd missed the owl at the cottage, although Roger said he'd heard it late at night, and our last chance for the owl was on the Goblin Hills property where we were told it could often be found either late at night or early in the morning. Lyndon knew that we'd be happy to be awakened at any hour for the owl. The other two birds were possible to find on Ecclesdown Road and we did, in fact, find both of them. The crows were just a fly-over, but their call was unmistakeable (the local name of the bird is "Jabbering Crow"). On the left is my photo of the Black-billed Parrot. To the right is another cool bird: the nighthawk-like Northern Potoo which is basically asleep all day, so waiting for a better shot would have been pointless. You can at least see a hint of the eye and the beak, partly obscured by a twig in front of its head.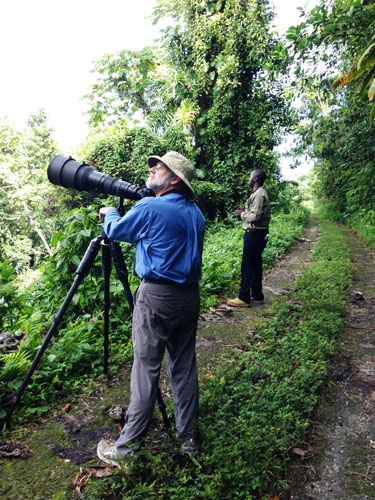 Tom and Lyndon on Ecclesdown Road.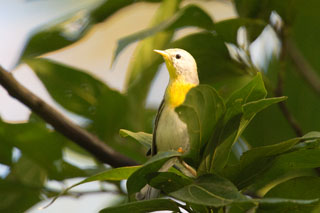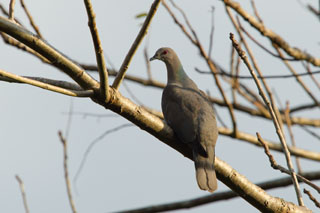 Here are a couple more photos from the Goblin Hill/Ecclesdown Road area. On the left is a female Northern Parula and on the right is the Ring-tailed Pigeon.
I missed a great opportunity at another Jamaican Tody shot (couldn't find the bird and when I did, the autofocus insisted on finding twigs in front of or behind the bird). We also saw the Common Ground Dove and got another look at the Jamaican Lizard Cuckoo. The road was similar to that at Hardwar Gap in terms of visibility and lack of much traffic. It was just 4000 feet closer to sea level, so there was a lot of different stuff there.
We returned for lunch and in the afternoon went to a place called Sherwood Forest where we'd have the best chance of getting a good look at the Crested Quail Dove. We technically had that one, but a crappy view and other than that, the only endemic we were still missing was the Jamaican Owl.
The road into Sherwood Forest was completely overgrown, and it was very hard carrying the tripod/camera combination. I constantly checked my feet to make sure I didn't take a tumble with all the equipment on my shoulders and the legs of the tripod kept getting tangled in the undergrowth that completely covered the old road. Unfortunately we had no luck with the Quail Dove, but I did finally get a decent shot of the Jamaican Oriole although the photo is posted above in the Hardwar Gap section.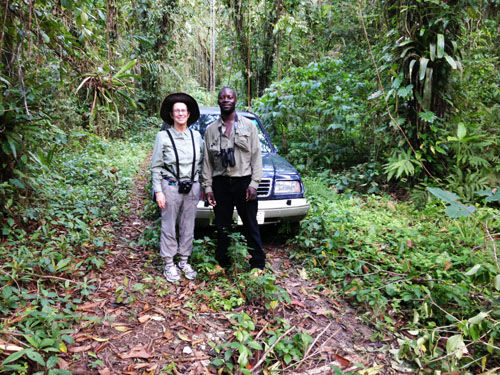 Ellyn and Lyndon in Sherwood Forest.


Hector's River (2/13/2014)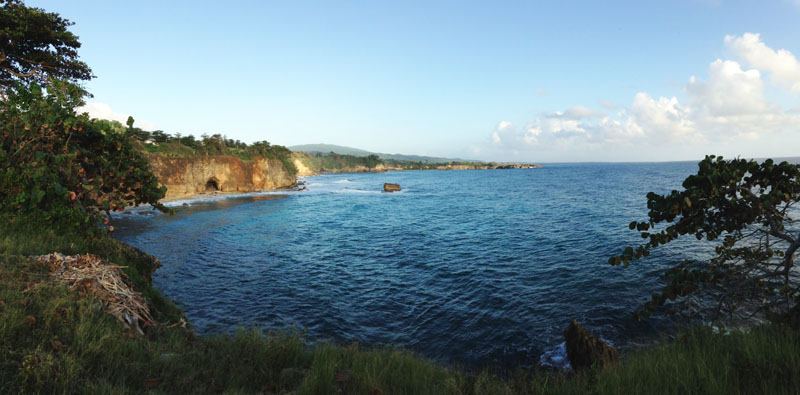 Panorama of Hector's River.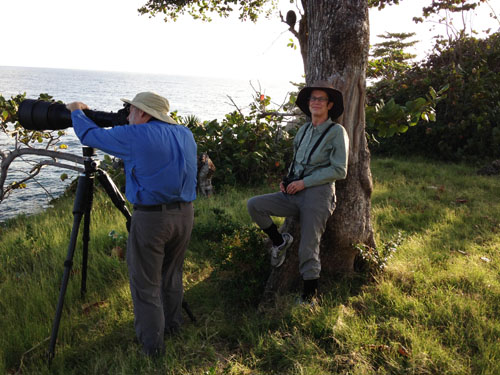 Tom, Ellyn at Hector's River.


Unfortunately, that night and the next morning there were no more owl calls, so we wound up with only 27 of the 28 endemics on our trip (or maybe 26 1/2, considering the half-assed view we got of the Crested Quail Dove).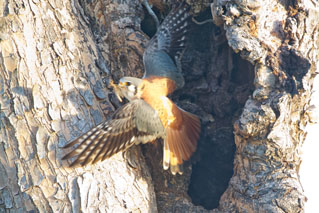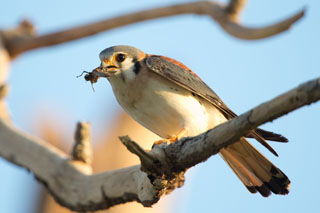 On the morning of the 13th we drove along the main coast road to a place called "Hector's River" although there's not really a river there, but rather a great overlook with cliffs that harbor the White-tailed Tropicbirds. But we got a really nice surprise in that on the short walk to the cliff's edge there was an American Kestrel eating an insect in pretty nice light and I was able to snap a few nice photos of him/her with almost no effort. Here they are on the left and right.
There were plenty of Tropicbirds, but they were way out to sea. It wasn't hard to get a fairly good look with binoculars, but they were far away and almost always fast-moving, so I didn't do so well with the camera. My best (mediocre) shot appears below: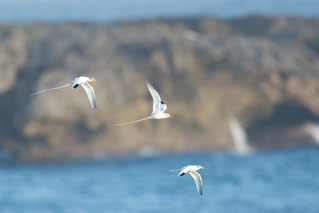 We waited for quite a while for the birds to give me a better shot but finally gave up and returned starting at the far end of Ecclesdown Road heading back toward Goblin Hill for lunch. We did more birding on the road and got another good look at the Jamaican Blackbird and a distant view of a perched Vervain Hummingbird. We knew that checkout time at Goblin Hill was noon, so we figured that we should leave at about 11 to make it in time for lunch at 11:30 and checkout at noon. At almost exactly 11 we got the best ever view of the Jamaican Lizard Cuckoo, not only in the open and in good light, but with a lizard in its mouth! The photos appear in the section on camera equipment.
Returning Home (2/13,14/2014)
After lunch we started the long drive back to Kingston and it took a bit more than two hours before Lyndon finally got us back to the City View Hotel. We spent the afternoon repacking all our stuff had a good dinner there, a night of sleep where for the first time in more than a week we didn't have to get up before the sun.

After breakfast, we got a taxi ride to the airport and flew to Miami and home without incident, other than a long (5 hour) wait in Miami for our flight home to San Francisco. (Our plane wasn't late; it was just the earliest possible flight.) I made good use of the time in the airport sorting through all the photos and trying to pick out the ones that appear on this page. Of course we spent St. Valentine's day in airports, but we did get a free glass of champagne in the Miami airport lounge for a small celebration.

All in all, it was a great trip! Many thanks are due to Arrowhead Birding Tours and especially to Ricardo, who kept in contact even when he wasn't our guide, to make sure that everything was going smoothly. All three guides were great, each equipped with super-human abilities to find birds and super-human patience to put up with my incompetence as a bird photographer.
Camera Equipment and Strategy
Equipment
I took two bodies in case one failed. The primary body is a Nikon D4 and the secondary body is a Nikon D800. (All the camera gear is Nikon, unless mentioned otherwise, to ensure compatibility.)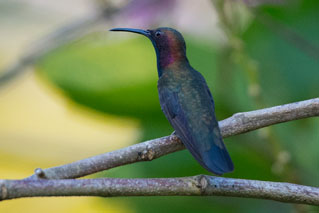 Here's a Jamaican Mango on the right.
I took three lenses: A 600mm f/4, a 200mm f/2.8 and a 28-120mm f/4 zoom. All are auto-focus and VR (vibration reduction) lenses.
I also had a 1.4x and 2x tele-extender. I used the 2x with the 200mm lens and usually had on the 1.4x with the 600mm. The D4 can "sort of" autofocus at f/8 which is what I'd effectively have if I tried to use the 2x with the 600 for an effective 1200mm f/8 lens. I never tried (although I did try in Africa a couple of years previously with results that weren't terrible. But I figured with the 1.4x I'd have an effective 840mm f/5.6 lens). Here's the African trip report in case you're interested.
I took a 910 flash which I never used, so that wasted some weight. The D800 has a small built-in flash that we used for a few indoor shots and that worked perfectly well.
I used very fast memory cards: the Lexar 32 GB 1000x card and the 64 GB Sony XQD (in the D4) that has an effective 1100x speed. I wanted to be able to shoot bursts at 10 frames per second for as many photos as I needed and since I shot everything in RAW mode, that amounted to about 20 MB per photo on the D4 and 40 MB per photo on the D800. (The D800 can only shoot half as fast at the D4, so it requires about the same card speed for long bursts.)
It turns out that for most of the trip, there weren't a lot of opportunities for photography (like there are in places like Botswana and in the Panatal in Brazil) so although I took an extra 96 GB of high speed Lexar memory cards I didn't even come close to filling the one Lexar card in the D800 and the one XQD card in the D4.
My backup strategy was never to erase a card and only to delete images from the card that were absolute total crap since in an emergency if you're shooting in RAW mode you can recover in Photoshop or similar enough for an identification even if you under-expose by 3 or 4 stops. At every lunch and evening, I'd copy all the new photos to my laptop, so I'd have two copies of each: one on the laptop and one on the camera's memory card. I also usually had time after each upload to take a look at the morning's or afternoon's photos to see how I'd done on a larger screen, and I'd sometimes find that although the photos looked good on the camera's viewfinder in the field that they really weren't that good and that it was worth it to me to try for the same bird again at a later date.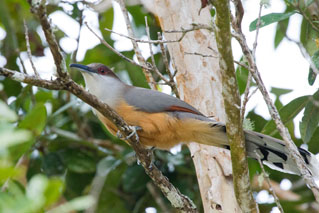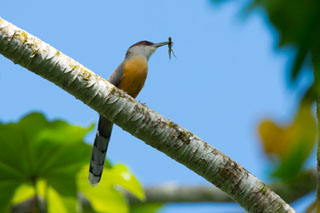 Of course it's always possible to get a better view, but there's a point of diminishing returns. On the other hand, I thought I had a good-enough photo of the Jamaican Lizard Cuckoo from the first time I saw it, and then as a sort of last day, last minute miracle, I got a great shot of the bird in good light, not obscured by undergrowth, and, to top it all off, with a lizard in its mouth! Can't beat that. Here are the "good enough" and "even better" versions of that photo.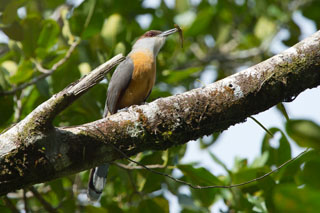 I even got him with the lizard from two different places:


For support I used only Really Right Stuff stuff. I've used it for years and years and it always works great. I have the RRS mounting plates on both cameras (just the flat ones; not the L-plates since I hardly every shoot in portrait mode). I exchanged the Nikon feet on both the 200mm and the 600mm lens with RRS versions that have a built-in mount for Arca-style clamps.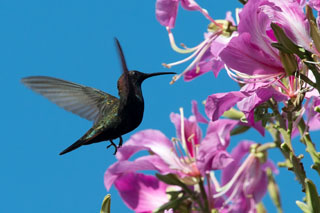 This, and the next two photos, are of the Jamaican Mango feeding at some flowers in the garden at Goblin Hill.
I used the RRS heavy-duty (but carbon-fiber) tripod with a ball head mounted on that (so I could mount a camera with a small lens easily) but it was usually locked straight up and I had the RRS gimbal system on top of that so that the 600mm lens was effectively mounted at its center of gravity and as long as the tripod was level, the camera could swing around and easily point in almost any direction, as long as the target wasn't too high up or too low down. (I only had one place where I was trying to shoot way down a hill and the camera eyepiece got so high I couldn't see through it and I had to significantly shorten the legs on the tripod. For almost all of the rest of the trip, the legs were locked in a fixed position.)
If there had been a chance to set up in one place for a long time (like in a blind) I could have used the ball head to perfectly level the gimbal setup for perfect photos. But since we never stayed for too long in one place, I figured it was easier just to keep the head locked straight up and to try to set up the tripod so that it was as level as possible. If the tripod isn't level, the gimbal system still allows the camera to swing freely, but the bottom edge of the photo will no longer be aligned perfectly with the horizon. Fortunately, the 600mm has a collar on it (usually used to swap between landscape and portrait mode) but I found that if I loosened it slightly, I could level the camera exactly in just a few seconds. I also figured that since most of the photos would probably be cropped anyway there was no reason to demand a flat horizon: Photoshop is perfectly happy to crop at an oddball angle.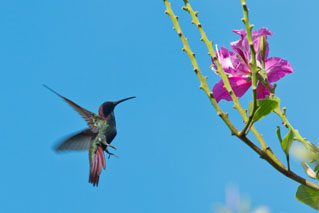 To carry the whole mess I locked the gimbal so that the camera/lens was parallel to two of the tripod legs, stuck my right shoulder between those legs and wrapped my right arm around the back and outside leg and held the front leg in my right hand. I am so thankful that I padded the tripod legs near where they joined or I would have rubbed the skin on my shoulder raw. It was pretty sore at the end of each day anyway, and my back was tired from lifting and setting down the whole rig dozens and dozens of times every day. It was heavy enough, even with the carbon-fiber tripod. To pad the legs I just used pieces of plumber's foam pipe insulation around each leg and wrapped it with duct tape.
We traveled in a fairly small vehicle and it took longer than I liked to get things set up for a photo. I obviously had to take the camera/lens combo off the mount, and I usually took off the gimbal apparatus since when it was connected, the tripod with legs extended plus gimbal was long and clumsy and getting it into and out of the car was like trying to get pieces out of one of those Chinese wooden-block puzzles. So I found that the best compromise was to leave the legs extended and to take off the gimbal. But I missed a few shots because of it.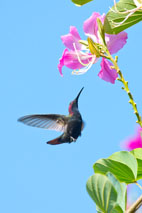 The only piece of equipment that I was not happy with was a new experiment: a Solmeta GPS receiver that attaches to the flash shoe on the camera. As advertised, it does provide a fairly accurate GPS measurement and it does seem to acquire the satellites pretty quickly, but the manual is very difficult to understand and I basically just gave up and used it in the default mode which did everything I wanted. Another problem is that it's sometimes hard to turn off, and you need to try two or three times to make sure it's off. The problem with leaving it on is that it has a relatively small battery and (luckily) when that battery runs out, it starts sucking power from the camera, whether the camera is on or off. After the first day, I (thought I) turned it off, turned off the camera, and went to bed. The next morning, the camera, which had been fully-charged the night before, was only half-charged. (I had a spare battery, so that was not really a problem, especially since as I've said, I didn't take thousands of shots every day.) Finally, the electrical connector to the GPS device is very loose, and it dropped out all the time until I rigged a couple of rubber bands to keep the cable connected to the device. (It seems to me that there was something else about it that pissed me off, but I can't recall what it was at the moment.)
My other birding gear included a pair of 8x32 binoculars and an Apple (Air) laptop. I loved having the tiny Air to carry around, and although bigger binoculars would have been better, I was carrying a ton of stuff anyway and I thought the 8x32's were a pretty good compromise.
I carried almost the whole mess (including chargers, spare batteries, wrenches for every bolt on any piece of equipment, et cetera) in a Lowe Pro Photo Trekker II bag. It was very heavy but fit into the overhead bins on the planes, even with the tripod (without head) strapped to the side. The only things that didn't fit were the two parts of the gimbal arm and the lens hood pieces for the 600. They fit easily into Ellyn's carry-on bag. So I had the big camera bag as my main carry-on and I also took a roomy laptop bag to accommodate the laptop, lots of cables and stuff, reading material, et cetera. Ellyn had a small rolling standard carry-on bag that fit into the overhead bins on planes and a small butt pack with the essentials she wanted during the flights. It was a good idea to be, as much as possible, first in line to board the planes so that there'd be room for the heavy camera backpack.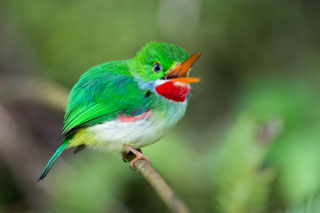 Another very useful piece of gear was a 1-to-3 "octopus": a device that plugs into a wall socket and provides three sockets for standard 120 volt electricity. Some of the places we stayed were pretty short on wall sockets, and we had camera batteries to recharge, laptops, cell phones, et cetera. None drew high current, but each seemed to require a different type of plug. In retrospect, I might have taken one more connector that would convert a two-prong socket to three prongs since in some of the older places there were only two-prong sockets (but luckily, enough to charge everything). We were clever enough this time to bring all required cables. I think a good strategy is while you're at home, put all your connectors, cables, devices, et cetera in a pile and make sure you can complete every possible circuit that you might want to make on your trip.
There's a "talking" Jamaican Tody on the left.
Oh, and we had two other cameras: our phones.
Ellyn carried a notebook and wrote down all the birds we saw. She also tried to write a "P" next to any that I got a photo of, and that helped a lot when I was trying to figure out what was what after a hectic day.


Shooting Strategy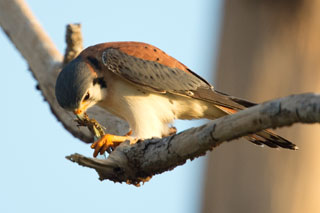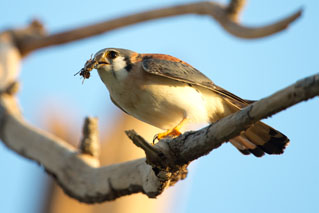 Here we've got the American Kestrel on both sides (with a bug!).

After having screwed up the settings way too many times on way too many other photo shoots, I think I've finally got a set that work for me (at least on the D4). The D4 is an ISO monster, and can take tolerable shots even up to ISO 8000 or so. I let the camera pick the ISO (which I usually limited at the top end to be ISO 6400) and I set the "default" ISO to about 400. The setting you want is Auto-ISO to make this happen. It seems that in almost every photo I took the camera selected an ISO setting that was not 400.

I usually operated in "Program" mode where the camera selects both the aperture and the shutter speed. I think that it noticed that I was effectively shooting at 840mm, so tried to keep the shutter speed high, so left to its own devices, it usually shot at f/5.6 (wide open) at 1/1000 second, and diddled the ISO to make that work, if it could. (With such a heavy, long lens, even on a solid tripod and vibration reduction there's some camera shake and a high shutter speed helps reduce the blur.) Of course at f/5.6 the depth of field isn't great, so if I wanted more DOF, I'd just put it in aperture mode and set it to f/8 or f/11 or whatever. And if I was trying to shoot motion (a moving bird or something) I'd set it in shutter priority and set the higher speed I wanted. In almost every case, the camera cheerfully just reset the ISO to make things work, and I'm pretty happy with most of the results.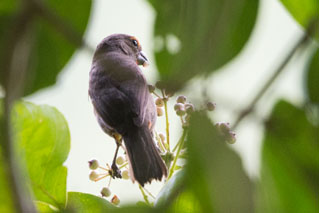 On the left is the Greater Antillean Bullfinch.
With the big lens and camera shake, even with my hand pressing down on the lens at the center of mass to reduce the shake, there is some shake as your finger trips the shutter. Because of that, I almost always took multiple shots: 2, 3 or more, since after the finger is down, the camera just keeps cranking out photos at 10 per second and there's no more finger movement. In the wonderful world of digital photography, "film" is very cheap!
Finally, to reduce the shake if it wasn't important to move the lens quickly, I'd set the friction on the gimbal parts pretty high which again, reduced movement. The disadvantage, of course, is that if you're trying to shoot a little bird that's bouncing around in the foliage and he jumps out of your (tiny) field of view, it's hard to track him if the gimbal friction is high. So there's definitely a tradeoff there.
I am so thankful that all of the guides (Ricardo, Roger and Lyndon) had a lot of patience with my incompetence at finding, tracking and photographing birds. They'd find a good bird, struggle to explain to me where it was, and then wait while I screwed up the shot, either by not being able to find it through the lens, or not being able to focus on it, or losing it before I got the shot off. Then I'd have to find it again and try again, and often I'd miss the bird entirely.
In my "defense," there's not much light that comes through such a big lens and in the dark parts of the forest, there's less light through the lens than I would have with my naked eye. It seems contradictory, with the huge objective lens on the 600, but remember that it has to illuminate a circle that would completely enclose a full frame of 35mm film, and my eyeball only has to illuminate something as large as my retina. I'd often find the bird with my binoculars in "brilliant" light, and then look though the lens at a dark mystery. Finally, the field of view is so tiny that when a bird jumps out, you have no idea whether it jumped 20 centimeters or 20 meters. But I still felt totally incompetent, and I know that if I practiced more, I'd get a lot better.
The cameras were almost always in the high-speed continuous shooting mode so if I held down the shutter release the cameras just took photos as fast as they could. There's also a mode that determines whether the camera will take photos in autofocus mode if the image is not quite in focus, and I set that to the most conservative setting (things almost had to be in focus for a photo to be taken) since I've never found a use for out-of-focus images.
Non-Photographic Stuff
Clothes
We packed pretty well for the trip. We each wore one set of clothes for the plane rides to and from Jamaica and we both had basically two sets of field clothes (thin nylon material that could be hand-washed and ready to wear by the time the next day was done). We used material that was supposed to prevent insect bites using Permethrin embedded in the material, but we'd owned the stuff for more than a year and a half and figured that all the chemicals had evaporated so we re-applied Permethrin to all of them (and to our socks and floppy hats) before heading for Jamaica.

It seemed to work well. I got only a few insect bites underneath my clothes during the entire time, and as a "scientific experiment" I did not spray my wrists and hands with DEET or anything else when I was in the field, and I got about 100 bites on my hands from my wrists to my finger tips. I'd use DEET on my hands next time! I think I got almost all the wrist bites at the second-to-last place we took photos: at Hector's River when I was taking photos of the White-tailed Tropicbirds.

It was never cold there, even in the mountains, so the fleece jacket I took was unused for all of the trip as well as the gloves and beanie hat I took.

We both had headlamps that we thought might be useful when searching for owls, but in the Blue Mountain cottage with hardly any light in the room, they were extremely useful.
Money
On the right is a photo of the Jamaican Spindalis.

We did convert a bit of money into Jamaican dollars, but probably didn't really need to: almost everyone was happy to accept US dollars in their place, although we tended to get a bad deal on the conversion. When we went, a Jamaican dollar was worth about 5% less than one US cent, and the usual "conversion" was one for one: if the offical price was 100 Jamaican dollars, they'd take one US dollar, so we lost about 5% each time. On the other hand, we didn't spend much: mostly tips for the guides, at the hotels, et cetera and the main things we brought back were Blue Mountain coffee and some jerk sauce. If we'd wanted more souvenirs it might have been worth it to convert more money. It was easy to unload any remaining Jamaican money at the end: just combine it with the last tips to the last guide, hotel staff, and/or taxi driver to the airport.

We carried most of our money, credit cards and passports with us all the time in watertight zip lock bags in pockets inside our clothes and just for safety, each of us had a photocopy of the other's passport. In addition, we took photos of the passports on our cell phones. Actually, we never used the cell phones as phones: just as crappy cameras and clocks to tell the time of day, so I have no idea how complicated or expensive it would have been to get set up to use them. We told all our friends we'd be out of touch except for possibly email, and that worked fine. There were a couple of days (at the cottage) where there was no wireless access but that was it. Cell phone coverage seemed to be fine all over the island as our guides did have phones, and they seemed to work almost anywhere: even deep in the forest.
Driving
Like the British, the Jamaicans drive on the wrong side of the road. Luckily the guides did all the driving. I sure didn't trust myself behind the wheel of a car on the "wrong" side of the road. Even then, I still mentally freaked out from time to time when we'd be approaching another car on a narrow road and I'd (mentally) scream at the driver, "GET TO THE RIGHT!!!"
Safety
Although a lot of friends at home seemed to think that Jamaica is a dangerous place, it sure didn't seem that way, although we were always in the good hands of the guides. Everybody seemed incredibly friendly and almost any time we'd meet someone in the forest, they'd wave to us, or beep their horn, or give us the thumbs up. It's probably not quite as dangerous as being in San Francisco since in San Francisco anybody could be armed with a gun. Of course we didn't leave valuable stuff just lying around, the guides did lock the car when we were walking down a road birding, et cetera, but that's what I'd normally do anywhere.
Patois
I had sort of assumed that the languages would be English and Spanish after our experience in Belize (another ex-British colony) where almost everything was in Spanish. I figured with Cuba nearby it would be similar in Jamaica, but was totally wrong: there was no Spanish to be heard at all. All the signs are in English and although sometimes a local accent was strong enough that we'd have to ask for a sentence to be repeated, there was no communication problem at all.

But Jamaicans do, among themselves, speak a sort of patois that is basically impossible to understand. There are some English words, some African, and some who knows? Apparently the grammar is different from English as well, and I'm sure glad I didn't have to figure it out. I understand that the patois is used almost exclusively (perhaps mixed with English, sort of like the "Spanglish" you hear in Miami) when Jamaicans talk among themselves, but every kid who goes to school learns standard English.
Our Bird List
Common Name, Scientific Name, and "En" if Endemic. Any links are to photos of that bird taken in Jamaica.
GREBES
PODICIPEDIDAE
Least Grebe
Tachybaptus dominicus
Pied-Billed Grebe
Podilymbus podiceps
PELICANS
PELECANIDAE
Brown Pelican
Pelecanus occidentalis
FRIGATEBIRDS
FREGATIDAE
Magnificent Frigatebird
Fregata magnificens
TROPICBIRDS
PHAETHONTIDAE
White-tailed Tropicbird
Phaethon lepturus
BITTERNS & HERONS
ARDEIDAE
Great Blue Heron
Ardea herodias
Great Egret
Ardea alba
Tricoloured Heron
Egretta tricolor
Little Blue Heron
Egretta cearulea
Snowy Egret
Egretta thula
Cattle Egret
Bulbulcus ibis
Green Heron
Butorides virescens
Yellow-crowned Night-Heron
Nyctannassa violacea
IBISES & SPOONBILLS
THRESKIORNITHIDAE
Glossy Ibis
Plegadis falcinellus
DUCKS
ANATIDAE
Blue-winged Teal
Arnas discors
NEW WORLD VULTURES
CATHARTIDAE
Turkey Vulture
Cathartes aura
FALCONS
FALCONIDAE
American Kestrel
Falco sparverius
Peregrine Falcon
Falco peregrinus
HAWKS & EAGLES
ACCIPITRIDAE
Red-tailed Hawk
Buteo jamaicensis
RAILS, GALLINULES & COOTS
RALLIDAE
Common Gallinule
Gallinula chloropus
AVOCETS & STILTS
RECURVIROSTRIDAE
Black-necked Stilt
Himantopus mexicanus
PLOVERS
CHARADRIIDAE
Killdeer
Charadrius vociferus
SANDPIPERS
SCOLOPACIDAE
Greater Yellowlegs
Tringa melanoleuca
Spotted Sandpiper
Actitis macularius
Least Sandpiper
Calidris minutilla
PIGEONS & DOVES
COLUMBIDAE
Rock Pigeon
Columba livia
White-crowned Pigeon
Patagioenas leucocephala
Ring-tailed Pigeon
Patagioenas caribaea
En
Zenaida Dove
Zenaida aurita
White-winged Dove
Zenaida asiatica
Common Ground Dove
Columbina passerina
Caribbean Dove
Leptotila jamaicensis
Crested Quail-Dove
Geotrygon versicolor
En
Ruddy Quail-Dove
Geotrygon montana
PARROTS & ALLIES
PSITTACIDAE
Olive-throated Parakeet
Aratinga nana
Yellow-billed Parrot
Amazona collaria
En
Black-billed Parrot
Amazona agilis
En
CUCKOOS & ANIS
CUCULIDAE
Jamaican Lizard Cuckoo
Saurothera vetula
En
Chestnut-bellied Cuckoo
Hyetornis pluvialis
En
Smooth-billed Ani
Crotophaga ani
POTOOS
NYCTIBIIDAE
Northern Potoo
Nyctibius jamaicensis
SWIFTS
APODIDAE
White-collared Swift
Streptoprocne zonaris
Antillean Palm-Swift
Tachornis phoenicobia
HUMMINGBIRDS
TROCHILIDAE
Jamaican Mango
Anthracothorax mango
En
Red-billed Streamertail
Trochilus polytmus
En
Black-billed Streamertail
Trochilus scitulus
En
Vervain Hummingbird
Mellisuga minima
KINGFISHERS
ALCEDINIDAE
Belted Kingfisher
Ceryle alcyon
TODIES
TODIDAE
Jamaican Tody
Todus todus
En
WOODPECKERS
PICIDAE
Jamaican Woodpecker
Melanerpes radiolatus
En
TYRANT FLYCATCHERS
TRYANNIDAE
Jamaican Elaenia
Myiopagis cotta
En
Jamaican Pewee
Contopus pallidus
En
Sad Flycatcher
Myiarchus barbirostris
En
Rufous-tailed Flycatcher
Myiarchus validus
En
Stolid Flycatcher
Myiarchus stolidus
Loggerhead Kingbird
Tryannus caudifasciatus
COTINGAS
COTINGIDAE
Jamaican Becard
Pachyramphus niger
En
VIREOS
VIREONIDAE
Jamaican Vireo
Vireo modestus
En
Blue Mountain Vireo
Vireo osburni
En
CROWS
CORVIDAE
Jamaican Crow
Corvus jamaicensis
En
THRUSHES
TURDIDAE
Rufous-throated Solitaire
Myadestes genibarbis
White-eyed Thrush
Turdus jamaicensis
En
White-chinned Thrush
Turdus aurantius
En
MIMIDS
MIMIDAE
Bahama Mockingbird
Mimus gundlachii
Northern Mockingbird
Mimus polyglottos
WOOD WARBLERS
PARULIDAE
Northern Parula
Parula americana
Yellow Warbler
Dendroica petechia
Cape May Warbler
Dendroica tigrina
Black-throated Blue Warbler
Dendroica caerulescens
Prairie Warbler
Dendroica discolor
Palm Warbler
Dendroica palmarum
Arrowhead Warbler
Dendroica pharetra
En
American Redstart
Setophaga ruticilla
Worm-eating Warbler
Helmitheros vermivorous
Black-and-white Warbler
Mniotilta varia
Common Yellowthroat
Geothlypis trichas
BANANAQUIT
COEREBIDAE
Bananaquit
Coereba flaveola
TRUE FINCHES
FRINGILLIDAE
Jamaican Euphonia
Euphonia jamaica
En
CARDINALS
CARDINALIDAE
Jamaican Spindalis
Spindalis nigricephala
En
GRASSQUITS, FINCHES & SPARROWS
EMBERIZIDAE
Black-faced Grassquit
Tiaris bicolor
Yellow-shouldered Grassquit
Loxipasser anoxanthus
En
Orangequit
Euneornis campestris
En
Greater Antillean Bullfinch
Loxigilla violacea
ICTERIDS
ICTERIDAE
Jamaican Blackbird
Nesopsar nigerrimus
En
Greater Antillean Grackle
Quiscalus niger
Jamaican Oriole
Icterus leucopteryx
BISHOPS
PLODEIDAE
Yellow-crowned Bishop
Euplectes afer
Contact Information
Here's my home page

Want to send me email? tomrdavis@earthlink.net.